According to a report published Monday, U.S. officials told Bloomberg View that Susan Rice, who served as national security advisor under the Obama administration, sought to "unmask" numerous identities of Trump campaign officials whose communications were collected "incidentally." Reports that "incidental collection" of conversations were obtained "legally" by intelligence officials in the course of "normal, foreign surveillance" was first reported in March, and Rice stated she knew "nothing about" the matter.
Under the "Foreign Intelligence Surveillance Act" (FISA), U.S. intelligence agencies are legally able to do routine surveillance on foreign officials as a standard national security procedure. Though the surveillance targets foreigners, U.S. citizens' communications can still be picked up as a byproduct. Under FISA, "masking" Americans' identities is required when recording these conversations. "Unmasking" refers to exposing the American citizens and the conversations that are caught in the foreign surveillance instead of respecting their anonymity.
According to two U.S. officials that spoke to Bloomberg View on anonymity, Ezra Cohen-Watnick, the National Security Council's senior director for intelligence, was conducting a review of the NSC when Rice's requests to unmask the Trump campaign officials were found.
From Bloomberg View:
The intelligence reports were summaries of monitored conversations — primarily between foreign officials discussing the Trump transition, but also in some cases direct contact between members of the Trump team and monitored foreign officials. One U.S. official familiar with the reports said they contained valuable political information on the Trump transition such as whom the Trump team was meeting, the views of Trump associates on foreign policy matters and plans for the incoming administration.
According to a report from Fox News, U.S. officials said that the unmasked names were then sent to the National Security Council, some Defense Department officials, former National Security Director James Clapper, and former CIA Director John Brennan. Included in that group were Susan Rice and deputy Ben Rhodes.
"The names were part of incidental electronic surveillance of candidate and President-elect Trump and people close to him, including family members, for up to a year before he took office," Fox News reported.
On March 22, House Intelligence Committee Chairman Devin Nunes told reporters that members of the intelligence community "incidentally collected" communications from the Trump transition team during the Obama administration.
"I recently confirmed that on numerous occasions the intelligence community … collected information about U.S. citizens involved in the Trump transition," Nunes told reporters.
That same day, Susan Rice appeared on PBS News Hour and was asked about the allegations shared by Rep. Nunes.
"I know nothing about this," Rice said.
"I was surprised to see reports from Chairman Nunes on that account today," she added.
The day before, Rice took to Twitter to divulge her opinion about truth coming from the White House.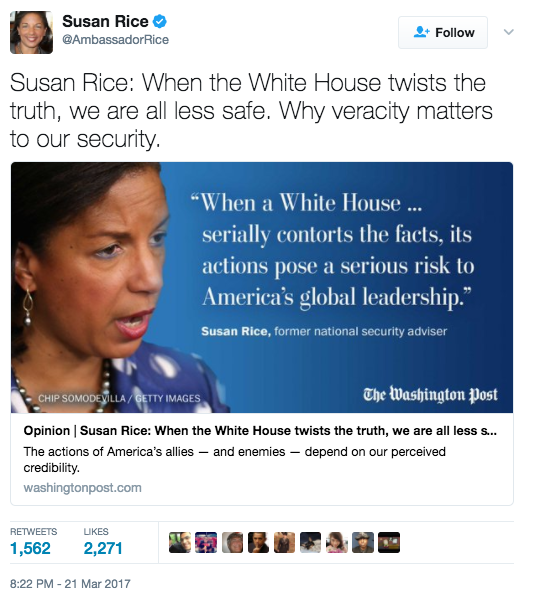 "When a White House… serially contorts the facts, its actions post a serious risk to American's global leadership," Rice tweeted.
Before serving as Obama's national security advisor, Rice was the U.S. ambassador to the U.N. After the 2012 terrorist attacks on U.S. facilities in Benghazi, Rice was the individual who went on five Sunday morning talk shows to tell the American public that the attacks were executed by spontaneous angry mobs of protestors who were angry over a YouTube video that featured the prophet Mohammed. That statement was proven to be untrue.
[revad2]