On Thursday, Russia's Ministry of Justice banned the well-known image of Russian President Vladimir Putin depicted as a gay clown that has been widely shared on the internet over the past few years. The image is now registered as "extremist material" and the punishment for those who dare to share or retweet it is a 15-day prison sentence or a fine of 3,000 rubles, which equates to about $53.
The popular picture, which depicts Putin with pink cheeks, heavy eye makeup, and bold red lips, has been shared often since the 2013 protests in Russia after Moscow outlawed gay propaganda. The law bans discussion of gay rights in any public place where children might hear. The legislation defines "gay" as "non-traditional sexual relations."
Kremlin spokesman Dmitry Peskov commented on the Justice Ministry's decision to add the image.
"You know how such things might hurt somebody's feelings, but the President is quite resistant to such obscenity and learned how to not pay attention," Peskov said.
News of the ban inspired many on social media to make a call for action, sarcastically urging people to share the image as much as possible.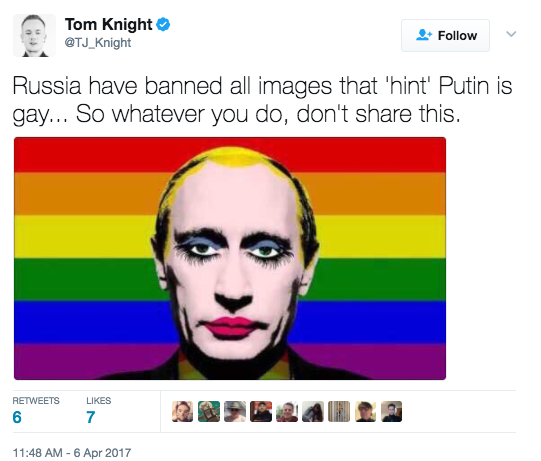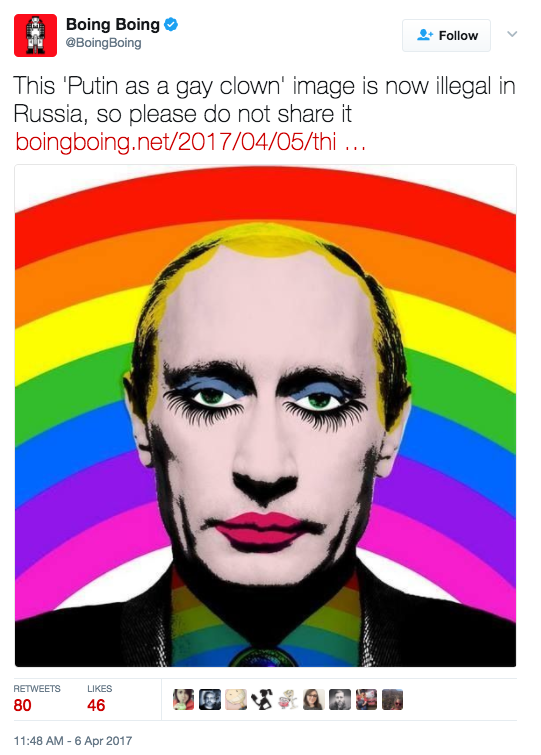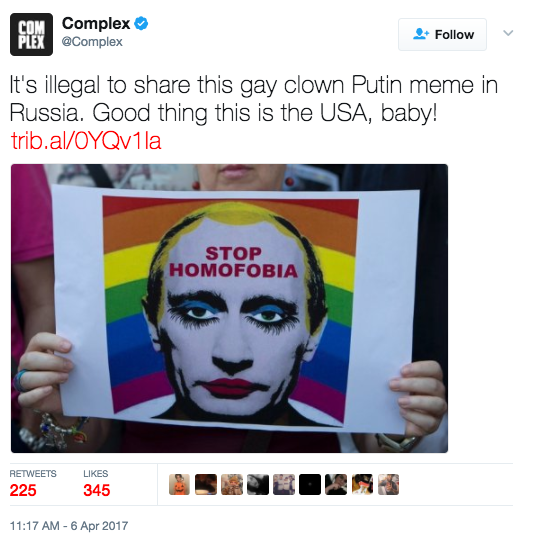 According to CNN, last year a man named Alexander Tsvetkov was charged with "incitement of hatred or enmity" because of some images he shared on social media. Tsvetkov reportedly shared featured "hostile postings" about immigrants and Nazis, but court documents said he also shared "a poster with the image of a man resembling the president of the Russian Federation V.V. Putin, wearing face makeup — painted eyelashes and lips."
Tsvetkov was convicted and was committed to a psychiatric institution. CNN reported that it is unclear whether he has been released.
[revad2]