On Friday, Stars and Stripes reported that the Pentagon said that the two Army Rangers that died in a firefight on Thursday may have been killed as a result of friendly fire.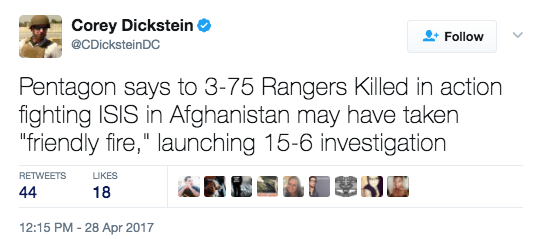 The two soldiers were identified as 22-year-old Sgt. Joshua P. Rodgers of Bloomington, Illinois and 23-year-old Sgt. Cameron H. Thomas of Kettering, Ohio. The two were a part of an assault on an ISIS-K compound in Nangarhar Province.
Capt. Jeff Davis, a Pentagon spokesman, said that the investigation is ongoing into whether the two soldiers were hit by U.S. or allied Afghan commando ground forces or the enemy.
"In the beginning of what was an intense three-hour firefight, it is possible these Rangers were struck by friendly fire," Davis said.
The operation on the fortified ISIS compound was targeting top ISIS-K leaders. The Pentagon said that the assault on the compound included airstrikes and support from an AC-130 gunship, Apache attack helicopters, F-16 fighter jets and drones. Multiple senior ISIS-K officials, including Afghanistan emir Abdul Hasib, are believed to have been killed as a result of the mission.
A third U.S. soldier was wounded in the operation.
"This was a dangerous mission, we knew this going in. This was the leader of ISIS in Afghanistan," Davis said. "We knew that he was going to be well-protected and that they were going to fight very hard to prevent him from being captured or killed."
[revad2]