On Tuesday, North Korea reportedly celebrated the 85th anniversary of their military by staging large-scale live-fire artillery drills along their nation's east coast. The drills, that reportedly involved up to 400 artillery pieces, were held just a short while after the USS Michigan submarine made a port call in South Korea in what is being called a show of force in the region.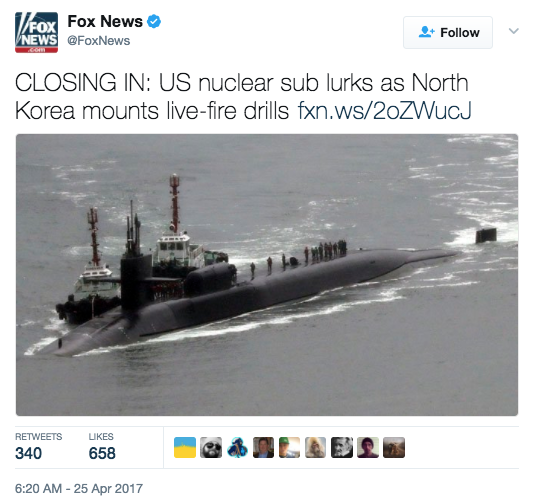 "Our military is closely monitoring the North Korean military's movements and remains firmly prepared," a statement from South Korea's Office of Joint Chiefs of Staff said, as reported by Reuters.
It also added that the South's military had its eye on the military drill situation and was "firmly maintaining readiness."
The U.S. and its allies have expressed concern that the North would potentially conduct another nuclear test or long-range missile launch to celebrate the upcoming anniversary.
CNN reported that their team located in North Korea said that "citizens in the streets of Pyongyang were celebrating Armed Forces Day, with no visible signs of tension."
According to South Korea's top news agency, Yonhap, the North held a meeting on Monday to acknowledge the anniversary and reiterated the idea that they were ready and able to combat any military action taken by the United States.
"If the enemies dare opt for the military adventure despite our repeated warnings, our armed forces will wipe the strongholds of aggression off the surface of the earth through the powerful preemptive nuclear attacks," Pak Yong-sik, North Korea's minister of the armed forces, said according to Yonhap.
On Monday during a meeting with ambassadors who sit on the U.N. Security Council, President Donald Trump acknowledged that North Korea is in fact a real threat to the entire world.
"This is a real threat to the world, whether we want to talk about it or not," Trump said.
On Sunday, North Korea issued a warning to the U.S. that they were "ready to sink" a U.S. aircraft carrier "with a single strike."
Illinois Congressman Adam Kinzinger told CNN that he did not believe the North had that capability.
"I think North Korea does not, at least not that I know of, have the capability to sink a U.S. aircraft carrier with a single strike," Rep. Kinzinger said. "But they do have the capability to frankly unleash hell on South Korea. Their conventional artillery, more forward located, this stuff is actually built into mountains that can pop out and shoot and pop back."
Following Sunday's threat, the Pentagon issued a warning to the North to stop with their provocative actions.
"We call on (North Korea) to refrain from provocative, destabilizing actions and rhetoric, and to make the strategic choice to fulfill its international obligations and commitments and return to serious talks," Pentagon spokesman Gary Ross said, according to CNN. "North Korea's unlawful weapons programs represent a clear, grave threat to US national security."
[revad2]