On Wednesday, former Iranian President Mahmoud Ahmadinejad filled to run in Iran's presidential election that is set to take place in May. Ahmadinejad, who was in office from 2005 to 2013, decided to once again run for President despite warnings from Iran's Ayatollah Ali Khamenei not to.
Last year, the Ayatollah warned Ahmadinejad that running for President again would be "not in his interest and that of the country." Ahmadinejad told reporters that the Supreme Leader's words were "just advice."

The Associated Press reported that the former President's move to run "stunned" the country of Iran.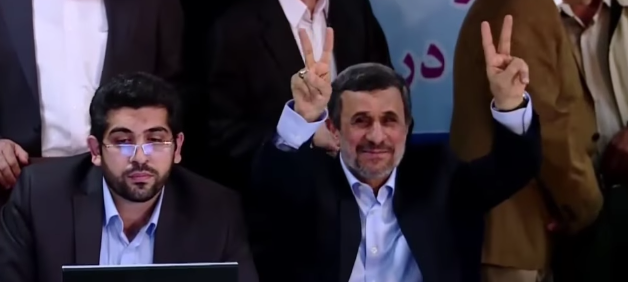 The AP also reported that Iran's current President, Hassan Rouhani, has not yet formally registered but had been expected to gain an easy win in May. Ahmadinejad's decision may interfere with Rouhani's chances as the public sees the former President as a leader who would be willing to stand up to U.S. President Donald Trump.
In February, Iranian media published a letter from Ahmadinejad to Trump in which the former leader of Iran discussed Trump's policies and America's involvement in the Middle East. The approximately 3,500 word letter came as criticism was growing in Tehran, Iran's capital, about America's new President and about the Islamic Republic being one of the seven nations that was included in Trump's temporary travel ban.
"Your Excellency (Trump) has truthfully described the US political system and electoral structure as corrupt and anti-public," Ahmadinejad wrote.
Ahmadinejad said that with over a million people of Iranian descent living in America, the U.S. would do well if they showed they respected that diversity.
"The presence and constructive effort of the elite and scientists of different nations, including the million-plus population of my Iranian compatriots has had a major role in the development of the US," he said in the letter. "It is necessary that the spirit of the policies ruling the US, value respect toward the diversity of nations and races."
He also added that because of the diversity of the United States, it essentially belongs to no one.
"The contemporary US belongs to all nations, including the natives of the land. No one may consider themselves the owner, and view others as guests or immigrants," he said.
Earlier this year, Ahmadinejad joined Twitter with the handle: @Ahmadinejad1956. As of Wednesday morning, he has yet to tweet about his decision to run.
[revad2]