Fighters are hungry by nature. Hungry to fight, hungry to win, and hungry to be on top. That is exactly why former featherweight UFC fighter Julian Erosa finds himself on the prowl through various MMA promotions throughout the pacific northwest, crushing anyone in his path to get back to the top.
American Military News spoke to Erosa ahead of his next Lightweight title defense against Justin Harrington at Cagesport 45, to learn about MMA, fighting his way to the top, and more.
AMN: Can you tell us a little about your career since appearing on the Ultimate Fighter, and leaving the UFC? Have you considered other fight promotions?
Erosa: Honestly, I'll fight for anybody who will pay me money. It doesn't have to be the UFC even. The reason people have their sights set on the UFC is because to them, that's where all the best fighters are. So, if the UFC calls me, that's where I want to be, but if anyone calls me for a fight and can pay money, then that's where I'll go. I just want to fight the best people in the world, that's it.
AMN: What inspires you to fight consistently and so often, regardless of career setbacks?
Erosa: It sucks, being where I'm at, having this dominate 18-4 record, which is better than half the guys on the roster, and seeing some of these dudes get chance after chance after chance and not get cut. But at the end of the day, I'm ready to do whatever it takes to get back to the top. I have my family, and my wife, and everyone who supports me. That, and the desire to be on top, keeps me fighting.
AMN: How do you balance being a family man and dedicating your life to the pursuit of mixed martial arts?
Erosa: Honestly, it's relatively easy for me. My wife supports absolutely everything I do, but of course, I could get the job done on my own, but she's the one that stays on me to make sure I'm eating well, following my diet, and telling me every day to pursue my dreams. I know there are fighters out there that don't have that support, and that sucks, but I'm glad to have been so blessed.
AMN: How do you want to be remembered at the end of your MMA career?
Erosa: I think all fighters basically have the same goal. I want to be remembered for putting on a good fight, and for being a fan favorite. Obviously, everybody wants to be the champion of the world, and that's just not plausible for everybody, so minus that I think just being remembered for putting on a great show and having the support of the fans is how I'd want to be remembered when it finally ends.
AMN: How have you improved as a fighter from UFC 196 (McGregor vs. Diaz) until now? What holes in your game have you filled to make yourself better than ever?
Erosa: This will be my 5th fight since then, and mentally I'm just on a whole other level. I'm no longer star struck, I don't get in my own head about things leading up to a fight. I would say that I just stopped caring. Not in a bad way, but I just stopped caring about the small things that set me back. Now I'm only focused on winning and getting to where I belong.
AMN: Conor McGregor was one of the head coaches on your season of the "Ultimate Fighter." What do you think about this future fight between him and Floyd Mayweather? 
Erosa: I think it's stupid, only because there is a handful of guys I would love to watch him fight in the UFC first. It's not that I wouldn't watch it, but there are plenty of match-ups that I would be way more intrigued to see him fight.
AMN: Any parting words?
Erosa: Many thanks to all my amazing sponsors who continue to support me, to my fans and of course my family and friends. And thank you to American Military News!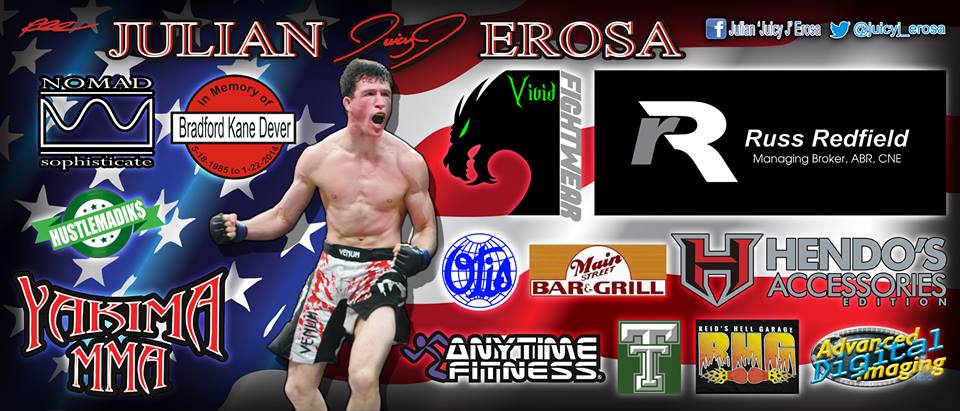 You can follow Julian Erosa on Facebook, Instagram, and Twitter.
[revad2]