A Democratic Texas lawmaker filed a bill on Friday that would restrict health treatments for men and fine them $100 for masturbating without the intention of preserving it for possible future pregnancies.
House Bill 4260, called the "Man's Right to Know Act," was filed Friday, by State Rep. Jessica Farrar (D-Houston) in an attempt to satirize laws and regulations imposed on women's access to health care and abortions.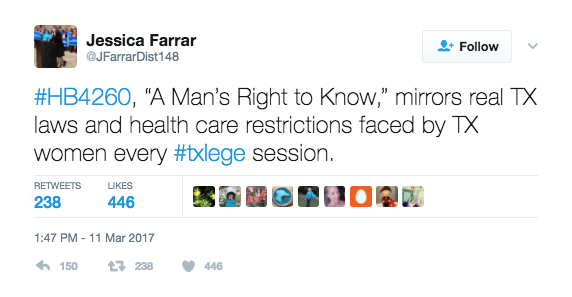 The bill would fine men $100 for masturbating and require men to receive a booklet with medical information related to the benefits and concerns of a man seeking a vasectomy, a Viagra prescription or a colonoscopy. The bill would also allow doctors to invoke their "personal, moralistic, or religious beliefs" to refuse giving men vasectomies, or prescribing viagra.
Farrar told the Texas Tribune she knows the "proposed satirical regulations" won't be enacted, but she hopes it will bring about discussion on the issue.
"What I would like to see is this make people stop and think," Farrar told the newspaper. "Maybe my colleagues aren't capable of that, but the people who voted for them, or the people that didn't vote at all, I hope that it changes their mind and helps them to decide what the priorities are."
The bill contains provisions that would also put restrictions on vasectomies, Viagra prescriptions and colonoscopies.
The bill would require men seeking those procedures to receive and review a booklet of informational materials titled "A Man's Right to Know."
It "must contain medical information related to the benefits and concerns of a man seeking a vasectomy, Viagra prescriptions or a colonoscopy."
The materials will "follow the rules and procedures of the informational booklet entitled 'A Woman's Right to Know,'" the bill states. The bill refers to the booklet doctors are required to give women that are seeking an abortion.
The bill would require men to receive a rectal exam and an MRI of his rectum before any of the three treatments. The bill acknowledges that the exam is not necessary.
The bill would prevent men from suing a doctor that refused to provide one of those procedures based on the doctor's "personal, moralistic, or religious beliefs." Additionally, the man must wait at least 24 hours after the doctor's visit to consent to receiving the treatment.
The last part of the bill would ban "unregulated masturbatory emissions."
"Emissions outside of a woman's vagina, or created outside of a health or medical facility, will be charged a $100 civil penalty for each emission, and will be considered an act against an unborn child," the bill reads. Emissions in medical facilities "will be stored for the purposes of conception for a current or future wife."
Farrar said semen should only be used for pregnancy otherwise it is a "waste."
"Men have to answer for their actions and so forth," Farrar told the Texas Tribune. "So if there's going to be an emission, it would have to be done in a hospital where the semen could be preserved for future pregnancies or it would be directly deposited into the vagina of a woman."
"A lot of people find the bill funny," Farrar told the Houston Chronicle. "What's not funny are the obstacles that Texas women face every day, that were placed there by legislatures making it very difficult for them to access health care."
Farrar has been an outspoken proponent of women's abortion rights. 
She spoke out against a proposed bill that would charge both the abortion provider and woman receiving the procedure with murder.
The lawmaker who proposed the bill, Rep. Tony Tinderholt, said Farrar doesn't understand basic human biology.
"I'm embarrassed for Representative Farrar," he said. "Her attempt to compare to the abortion issue shows a lack of a basic understanding of human biology. I would recommend that she consider taking a high school biology class from a local public or charter school before filing another bill on the matter."
[revad2]