Attempting to create a more powerful voice for women in Saudi Arabia, the country created a new Girls' Council – the first of its kind in the kingdom. However, when pictures emerged on the internet of the council's first meeting, 13 men can be seen in them but not a single woman.
Ranked regularly near the bottom on global surveys on gender rights, the creation of the Qassim Girls' Council was a promising step for the country.
The photos have gone viral on the internet since the meeting took place on Saturday.
According the the BBC, women are on the council and were at the launch, but were streamed in on video link due to strict Saudi laws on gender segregation between unrelated men and women.
The launch was led by Prince Faisal bin Mishal bin Saud, the governor of al-Qassim. His wife, Princess Abir bint Salman, who was not in the photo, is the chairman of the Girls' council.
Speaking at the event, Prince Faisal bin Mishal bin Saud said he was proud of the steps Saudi Arabia is taking to empower women.
"In the Qassim region, we look at women as sisters to men, and we feel a responsibility to open up more and more opportunities that will serve the work of women and girls," he said, according to the BBC.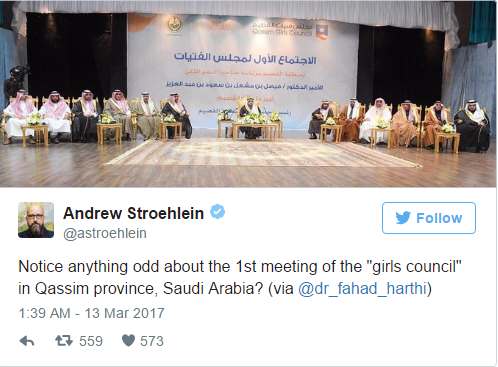 Many public places in Saudi Arabia are segregated including parks, public transportation and beaches. Women are not allowed to drive and need permission from a male guardian to work, travel, study or marry.
Saudi Arabia may be moving towards loosening some of their strict policies towards women. Through their Vision 2030 program, the country aims to boost female's participation in the workforce from 22% to 30%.
[revad2]