All opinion articles are the opinion of the author and not necessarily of American Military News. If you are interested in submitting an op-ed please email [email protected]
North Korea's successful simultaneous firing of four of its long-range missile arsenal at the beginning of the annual Allied military exercises in South Korea makes it clear that the Allies are in critical need of decisive action to strengthen deterrence efforts against the North Koreans.
I was on the Joint Staff working in nuclear operations and I remember the moment we realized that our attempt to prevent nuclear proliferation on the Korean peninsula had failed and the North had produced enough fissile material for several nuclear warheads. That day triggered efforts well beyond the lowest level of deterrence seen in the chart below: the restraint phase. We immediately began planning to ensure our nuclear forces could meet any threat posed by possible North Korean nuclear forces.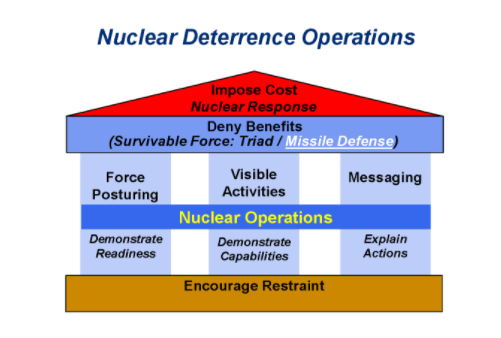 In those days, we had the benefit of time on our side because the North had not yet demonstrated a successful weapons test or developed adequate delivery systems. We eventually completed our planning and the United States and its Allies kept the correct posture, but as events have shown, deterrence is failing.
However, the current North Korean regime demonstrates weekly it is highly unstable and the latest missile firing into Japanese waters highlights the dangerous nature of the current situation. With its newest models of missiles on the verge of successful testing, the North Koreans could strike Chicago with its NK-14 and even Washington DC with the NK-08.
When we think about deterrence, usually we think about that top piece of the chart above: the imposed cost.  The imposed cost is the thing that you say, "well if you launch something at us, we are going to respond back."  That is how we typically thought about the massive retaliation role in the Cold War. We have become a little more sophisticated about this, because we learned the other thing that we can do is, if we can convince our adversary that we can deny them the benefit of what they were going to do, then that will have a reasonable effect. The goal is to stay in deterrence mode below the nuclear response and imposing cost level but clearly demonstrate we have the political will and resolve to use our forces if necessary.
The Trump Administration's response to the latest missile firing was to deploy missile defense systems to South Korea, because not only do we want to say we are going to impose a cost, but we also want them to know they're not going to achieve their objectives. This action was a sound deterrence operational move because we want them to know that if they attack our allies or us they are not going to be able to achieve their objectives. However, the response is not enough in either action or force posture, to deter the North based on the facts we currently face.
The United States, should immediately ramp up activity on all deterrence operations against North Korea, and there are three key parts to it.  
First, we must increase the posture of all our forces in the region in order to demonstrate our readiness. We should also be deploying missile defense systems to our military bases in Japan and offer the system for sale to the Japanese immediately. On top of that, we have to start regularly demonstrating visible activities to show what kind of capabilities these systems really have. Increasing U.S. Missile Defense Program spending to increase our defense capability of the homeland is a key piece of our defensive posture changes.
Second, we must change our nuclear force posture by placing nuclear aircraft on alert in the Pacific theater and being very transparent about it. Transparency is critical to address any Chinese concerns. We should also openly set a portion of our Intercontinental Ballistic Missile force (land-based here at home and submarine-based) on North Korean missile and leadership command and control targets.
Third, messaging our actions to the appropriate audiences ensures the likelihood deterrence can succeed. During the cold war, we spent a lot of time on these things. We talked about declaratory strategy. We spent a lot of time messaging the Soviet Union in particular about what our intentions were and of course they would message us back and forth and it was smooth because there was only one adversary. With a multi-polar world like the one we face, it becomes very important that we address our individual audiences and make sure that they know why we are conducting certain actions so that this messaging piece gains respect by all parties as the key to peaceful outcomes that it is.
The President should address the national leadership of our audiences like the North Koreans and Chinese and our allies South Korea and Japan directly. Other potential adversaries like Russia, Iran, and key allies will get the message indirectly from the Secretary of Defense and National Security Adviser.
Retired Colonel Rob Maness is owner of Iron Liberty Group and Chairman of GatorPAC. Rob served on the Joint Chiefs of Staff, survived the attack on the Pentagon on September 11, 2001, and commanded the oldest bomber squadron in the Air Force in combat. Rob's senior officer assignments included Vice Commander of the Air Force's largest airborne intelligence wing, as first Deputy Director of Planning and Programming at Air Force Global Strike Command. Rob broadened his experience after his military career working for Entergy Corporation in the energy industry, then later entered the political arena in 2014 when he ran for the U.S. Senate. 
[revad2]