All opinion articles are the opinion of the author and not necessarily of American Military News. If you are interested in submitting an op-ed please [email protected]
It was May 21,1950 and I was celebrating my birthday riding a Greyhound Bus into my unknown future. As I listened to the tires on the bus sing their song and glanced at the countryside whizzing by my window, I was filled with doubts and fears about my decision to drop out of 12th Grade of Garfield High School in Akron, Ohio and leaving my family. With the blessings of my Mother, I was leaving the grasp of an illiterate, alcoholic step-father.
There were, as best as I can recall, about 20 other young men who took the "oath" that day in Columbus, Ohio. Then it was another long bus ride; this time to the U.S. Navy Recruit Training Station at Great Lakes, Illinois.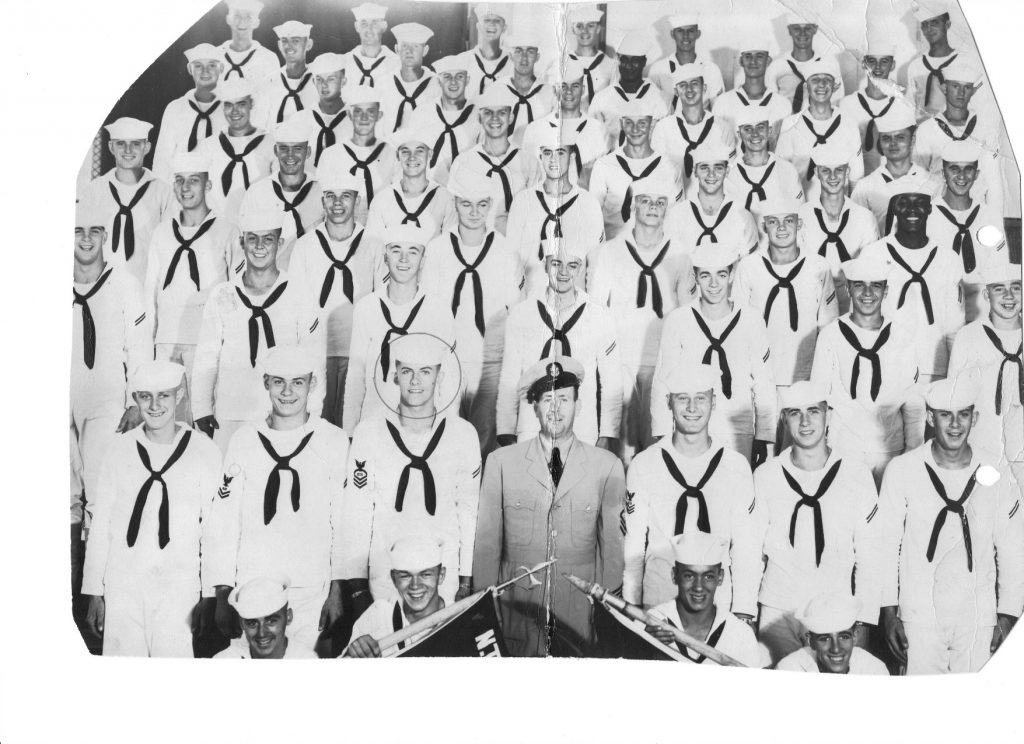 I wasn't certain how I would react to military training, but I found myself blending in with little or no difficulty. I had been able to join the U.S. Naval Reserve 0-2 program when I was still 16. What I learned in the Reserve Unit 11 months earlier proved to be extremely helpful in transitioning from civilian life to military life. That training caused me to be selected to the role of Assistant Chief Petty Officer (ACPO) of Recruit Company 107.
After an almost bald haircut, we were issued a Sea Bag full of uniforms and herded into our barracks. This would be our home for the next 12 weeks. As a Reservist, I already knew quite a bit of what we were about to be taught, so I was a big help to our Company Chief Petty Officer. We learned Semaphore (signal flag waving); Morse Code (dit dit dit dah); and precision marching with an M-1 Rifle. We had to stencil our names on all of our clothing and we did our own laundry and then hung them up in the Drying Room. Reveille was at 6:00 AM (0600) and we enjoyed three hot meals every day. I had no complaints with the food; it was better and more plentiful than what I was used to at home.
About 10 weeks into the training, the war in Korea heated up and our company was merged with Company 106. I was left in charge as ACPO of this new, much larger Company. At graduation, we were promoted from Seaman Recruit, to Seaman Apprentice wearing 2 diagonal stripes on our left arms instead of one.
Our entire 120-man Company was loaded on a troop train and we were shuttled to the Norfolk, Virginia Naval Operating Base. We were allowed "Cinderella Liberty" free to move about the base and enjoy hamburgers, hot dogs and a few too many beers. No one was permitted to leave the Base.
We were abruptly awakened at 0500 the next morning. After a quick shower and shave, we were mustered outside our barracks and then marched to Pier 7. As we marched down the pier, we couldn't help but look up at the biggest warship any of us had ever seen. We boarded the ship using the after brow (near the back part of the ship). When we were all aboard, we were in formation and the Officer of the Deck introduced us to the battleship USS Missouri (BB-63). This would be my home for the ensuing two years.
We were told that we would now be assigned to different Divisions on the ship. I was with a group of about 20 who were assigned to the FA Division. That Division had the responsibility for the vast amount of armament. I was assigned to the Bofors Quad-40mm Anti-Aircraft guns.
About 4 hours after boarding the ship, we could feel her moving away from the pier. When the tugboats got this huge ship headed towards the mouth of the Bay, we felt the four propellers "kick in."
When we cleared the harbor and entered the ocean, we heard the 1MC (loudspeaker system heard throughout the ship) click open. The Skipper's voice (Captain Irving T. Duke) spoke to the crew. He said, for the new crew members, "Welcome aboard!"
We were heading for Korean waters at best speed. The crew loudly screamed, "HooYaah!" Then the Captain said, "We will be having very rough weather between here and the Locks at Panama, so let's batten down the hatches and prepare for bad weather."
It was Hurricane Alpha off the Carolinas. Only the Skipper knew why he made the decision to go through the hurricane; time was of the essence. Well, we lost the two helicopters and the Plymouth sedan we were ferrying to Pearl Harbor and sustained additional damage to some other areas of the ship. The ship reeked of the smell of vomit; there were a lot of seasick sailors aboard (especially the new crew members).
We passed through the Locks with only about 12 inches to spare between the sides of the ship and the locks. With stopovers at San Diego and Pearl Harbor for supplies and ammo, it was a total of 19 steaming days before we found ourselves in Korean waters.
After about 2 weeks at sea, someone found out that I was the youngest crew member aboard the ship. I was 17 years and a little over 2 months of age. As I enlisted on my 17th Birthday, no one could be younger. I returned to my sleeping compartment one evening after chow and found a huge home-made diaper pinned to my rack. I hadn't noticed, but all my Division was there to see the expression on my face. We laughed and laughed about that one.
The ship was scheduled to be part of General MacArthur's Inchon Invasion, but the bad weather caused us to arrive too late. So, they sent the ship to Samchock, North Korea to participate in a diversion; perhaps the N. Koreans would think the invasion was going to be there instead of at Inchon.
The winter of 1950/51 was one of Korea's coldest. Temperature on the main deck got down to 29 degrees below zero (90 below with wind chill factor). We were issued extra socks, foul weather jackets & trousers and pressed-wool face masks. Moisture from breathing through holes in the mask would freeze into icicles which looked like fangs.
To shorten a very lengthy discussion of every detail of the ship's involvement during that combat deployment, suffice it to say that we had 19 bombardment engagements (two of which were tagged as major battles) and some gunfire support missions during our deployment in Korean waters.
During one of the bombardment missions, all personnel assigned stations aft of 16″ Turret #3 were ordered into the superstructure for safety. I was one of the last three who made certain all other personnel were safely inside the ship. For whatever reason, Turret #3 fired a 2-gun salvo to port just as we passed beneath the barrels. We were lifted like "rag dolls" about 5 feet into the air and then slammed down on the teak wood deck. One of the sailors almost reached the hatch, I had been flipped over and landed on my back, and the third was against the lifelines at the edge of the ship's deck. We were stunned for a few moments, but managed to help each other into the superstructure, just before another 2-gun salvo was fired. We each received what we thought to be minor injuries. The injuries to my spine were obviously worse than thought and flared-up later in my career. I'm now considered permanently disabled due to the injuries to my spine.
Our proudest mission was when we were positioned off Hungnam, North Korea in order to provide gunfire support for the First Marine Division and a couple Army groups as they made a "fighting withdrawal" from the "frozen" Chosen Reservoir and marched more than 50 miles to Hungnam where ships were waiting to extract them. More than 250,000 Chinese troops came over the mountain and almost surrounded the Marines at the Chosen Reservoir. Throughout the march to Hungnam, those Chinese troops stayed in hot pursuit of our men. We fired our huge 16″ guns over the heads of our troops down onto the Chinese. When we were too close for the 16″ guns, the twin 5″38cal AA guns opened fire and when the enemy was in range of our 40mm's, we joined in. When all of our troops were loaded on the awaiting ships, the Demolition Teams destroyed the entire harbor and all equipment that could not be loaded out.
On a happier note, during that deployment, Bob Hope and his Troupe came aboard to entertain the crew and on one occasion, General MacArthur came aboard to discuss the war strategy following the successful Inchon Landing and Invasion with our Naval Commanders.
After almost 8 months of combat, the Mighty Mo was on her way back to the States.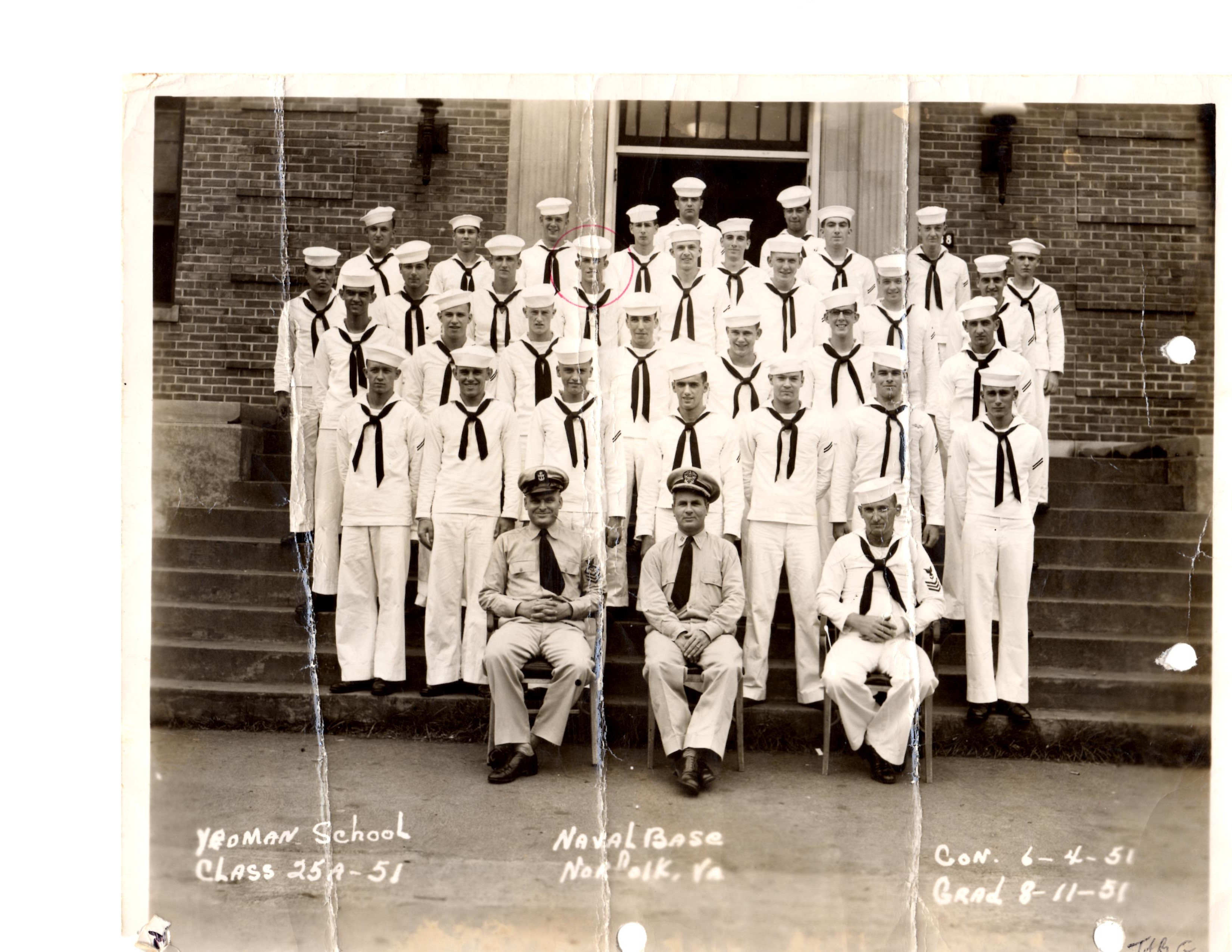 To round out my naval career, I served two years aboard the aircraft carrier USS FORRESTAL (CVA-59). Underwater Demolition Training School UDT) at Little Creek, Virginia, a couple Shore Duty tours in the U.S. and about 10 years in NATO commands, including 3 years at the NATO Headquarters in Paris, France prior to a volunteer tour in Vietnam in 1966/67 and 3 more years at the NATO Headquarters which had moved from Paris to Brussels, Belgium.
When my tour in Brussels was about to end, Rear Admiral Dean L. Axene from a NATO command in Norfolk, Virginia interviewed me for his "Writer" and I was accepted immediately after the interview.
Shortly after arriving in Norfolk, I was promoted to Senior Chief Petty Officer. Then, when the Admiral received new orders to be Deputy Chief of Naval Education and Training in Pensacola, Florida, he called me into his office one day and asked if I would consider going with him as his Personal Aide & Writer. I was dumbfounded, but quickly accepted.
So, I became the "first and only" Enlisted Flag Officer Aide in the entire Navy (at that time). About 3 years later, the Admiral didn't make his 3rd Star, so was retiring. I chose to follow suit and retired in November 1973, after 20+ years service in the UI.S. Navy.
Looking back, I was very fortunate to make excellent choices during my career in the Navy. When I retired, I accepted an offer for a Civil Service position at the Chief of Naval Education & Training Headquarters at Pensacola, Florida as a "Manpower Analyst at the GS-11 level."
In 2006, my wife Cathy and I vacationed in the Hawaiian Islands with the intention of being married on the beach like the young folks were doing. However, we learned that we could be married on my old ship because I am a former crew member. It was a "first" for the ship and to my knowledge it has never been done again.
In 2007, we relocated to Waianae, Hawaii from Florida and I was accepted as a Volunteer Supervisor until our return to the States in 2015.
From 2008 until 2015, I was the Guest Speaker for the newly selected Chief Petty Officers (CPO )attending the annual CPO Legacy Academy Classes held aboard the Missouri. I also headed up the USS Missouri Memorial Association's "Wounded Warrior" Program! The Missouri provided complementary tours for the Wounded Warriors and I was routinely asked to accompany them during their tour.
In 2012, the Director of the movie, "Battleship" had the Casting Director call me from Hollywood and ask if I would consider being an Extra in the movie. I quickly accepted. Needless to say, it was a "blast!" The scenes I appear in made the final version released to the movie theaters.
I've made some bad choices in my life, but I shall always remember the good ones.
Brooks Outland is a Korean and Vietnam war veteran.He volunteered to serve in Vietnam because he was keen to help the people of South Vietnam keep their freedom and their country from communist takeover by the North. After retiring Brooks and his wife spent eight years volunteering aboard his old battleship, USS Missouri (BB-63), before returning to the mainland in Arkansas in 2015.
[revad2]