Ret. United States Air Force Maj. Gary Foust tells the story of a training exercise gone wrong, only to go right again. The now infamous story of the "Cornfield Bomber," which Foust insists should have the name of the "Wheatfield Fighter" instead, occurred on Feb. 2, 1970 just north of Boston.
Foust was forced to eject from his Convair F-106 Delta Dart, only to watch the aircraft stabilize itself from a flat spin and coast off into the distance to land safely in a farmer's field near Big Sandy, Montana.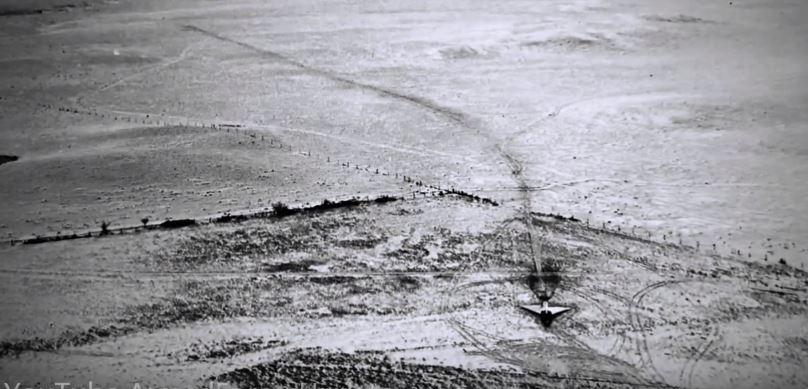 Foust said this is a one in a million occurrence, so what exactly happened that day?
Foust was flying at around 40,000 feet in a combat maneuvering session that was supposed to include four aircraft, but one aborted, leaving three. Foust's opponent was flying at a lower altitude. They met and got into vertical scissors.
Listen to Foust tell the story in his own words below:
Wingman Tom Curtis described it like this, "I figured I could handle [1st Lt.] Gary [Foust] pretty easy, but I did not trust Jimmy [Major James Lowe]. I figured he would probably break off and come after me. With this thought in mind, I came at them in full afterburner. I was doing 1.9 Mach when we passed. I took them straight up at about 38,000 feet. We got into a vertical rolling scissors. I gave [Gary] a high-G rudder reversal. He tried to stay with me, that's when he lost it. He got into a post-stall gyration…a very violent maneuver. His recovery attempt was unsuccessful and the aircraft stalled and went into a flat spin, which is usually unrecoverable," according to History.net.
Shortly after the maneuver, the aircraft encountered a problem and immediately went into a left-hand turn and a flat spin. Foust went through the procedures to recover, but was unsuccessful.
By the advice of his wingman, Foust ejected at around 8,000 feet.
The aircraft was headed nose down racing to the ground. Amazingly, it recovered and flew off. It flew for a few miles and safely landed itself in a snow-covered field in a town called Big Sandy.
The aircraft sustained minor damage. Local authorities arrived on the scene to find the aircraft's engine still idling, causing it to slowly drift across the field. When contacted by the local sheriff, the Air Force advised him to allow the aircraft to run out of fuel. One hour and forty-five minutes later the aircraft came to a rest.
Foust said he was certain the aircraft had crashed, and the fact that it didn't was stunning to him and everyone else.
The aircraft was eventually repaired and returned to service. It now rests in on a display at the National Museum of the United States Air Force.
Foust was able to visit the museum and see the aircraft. He said it felt good to see it and know that it is in the museum and his story will live on until it happens again.