Less than 24 hours after a terrorist carried out a vehicle and knife attack outside of the British Parliament on Wednesday, the Islamic State claimed responsibility through the Amaq media agency. Within a few hours, U.K. Metropolitan Police named the attacker as 52-year-old Khalid Masood, a British-born man who was known to police, though he had never been convicted of any terrorism offenses. Masood killed four and injured at least another 20 others when he mowed down pedestrians with his car before crashing into the gates at Parliament and stabbing a police officer to death using two knives.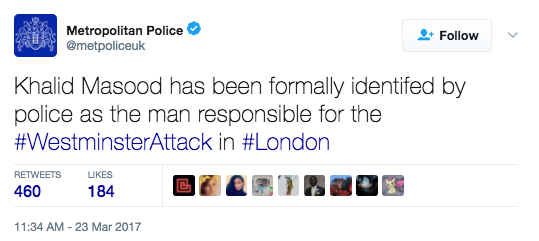 "Khalid Masood has been formally identifed by police as the man responsible for the #WestminsterAttack in #London," the U.K. Metropolitan Police tweeted Thursday.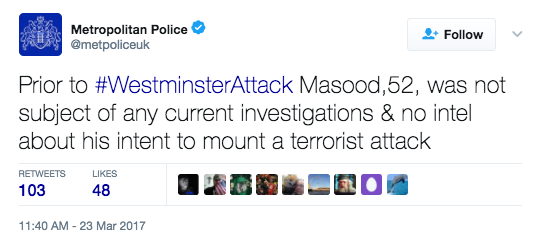 In a statement, police said that Masood was born on December, 25, 1962 in Kent, but most recently lived in the West Midlands under a number of aliases.
"Masood was not the subject of any current investigations and there was no prior intelligence about his intent to mount a terrorist attack," the statement said. "However, he was known to police and has a range of previous convictions for assaults, including GBH, possession of offensive weapons and public order offences."
According to police, Masood was first convicted in 1982 for criminal damage and last convicted in December 2003 for possession of a knife. None of his convicted were for any terrorism offenses.
Before Masood was identified by police, ISIS sent a statement through the Amaq media agency taking responsibility for the attack, and calling the then-unnamed perpetrator as "an Islamic State soldier."
"The perpetrator of the attacks yesterday in front of the British Parliament in London is an Islamic State soldier and he carried out the operation in response to calls to target citizens of the coalition," the statement from Amaq said.
[revad2]