On Sunday, former Iranian President Mahmoud Ahmadinejad announced via tweet that he officially joined Twitter. Ahmadinejad, whose username is "@Ahmadinejad1956," was the leader of Iran from 2005-2013, and during that time, Iranian officials blocked access to Twitter to keep the country's citizens from banding together against the regime.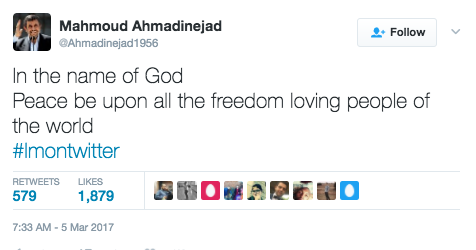 "In the name of God Peace be upon all the freedom loving people of the world #Imontwitter," his first tweet read.
A while later, Ahmadinejad tweeted a video of himself speaking and saying that @Ahmadinejad1956 was actually him.
— Mahmoud Ahmadinejad (@Ahmadinejad1956) March 5, 2017
"Follow me at @Ahmadinejad1956. That's me. Peace and love and best wishes," he says on the video.
His Twitter bio says that he's a "Husband, Dad, Grandfather, University Professor, President, Mayor, Proud Iranian."
When Ahmadinejad was reelected in 2009, many anti-government protesters took to Twitter to voice their discontent with the regime. They banded together and created the "Twitter revolution," which implored Iranian leaders to block access to the social media platform, as well as Facebook and others. Iranian citizens were only able to access these sites by using illegal VPN software.
The Campaign for Human Rights said that authorities in Iran lifted the block on Twitter late last year, but still censors other parts of the internet.
Later on Sunday, Ahmadinejad tweeted that "Chavez is alive," likely referring to the deceased Venezuelan President with whom Ahmadinejad was close.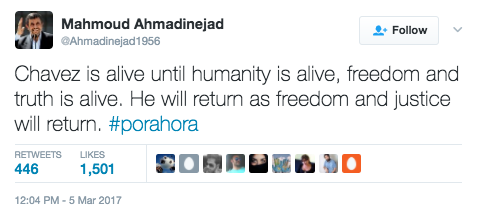 "Chavez is alive until humanity is alive, freedom and truth is alive. He will return as freedom and justice will return. #porahora," he tweeted.
In 2013, Ahmadinejad wrote a letter to the Vice President of Venezuela after Chavez's funeral and said that he believed Chavez would be resurrected.
"[Chavez] is alive, as long as nations are alive and struggle for consolidating independence, justice and kindness. I have no doubt that he will come back, and along with Christ the Saviour, the heir to all saintly and perfect men, and will bring peace, justice and perfection for all," he wrote in the letter.
[revad2]