A Florida homeowner was ordered to take down the Blue Lives Matter flag she displayed outside her home after it was deemed "racist" and "offensive" by the Homeowners Association (HOA).
Jeff Gaddie, the father of the homeowner, told Action News Jax that his daughter received a letter ordering her to take down the flag, saying it didn't coincide with the rules and regulations of the homeowners association.
"She called to ask why," Gaddie said. "They told her they had received a complaint that it was considered racist, offensive and anti-Black Lives Matter."
Gaddie said that his daughter has been flying the flag for years to honor him and other family members involved in law enforcement.
Gaddie added that HOA allowed his daughter to submit a request to fly the flag, but it has since been denied.
Action News Jacksonville reached out to the First Coast Association Management, which said only American and military-themed flags were allowed to be displayed in the neighborhood, even though other types of flags were found in the neighborhood.
Gaddie told Action Jax News that the Blue Lives Matter flag is not a symbol of racism.
"We've got black officers, we've got Asian officers, we've got every race," Gaddie said. "I mean for them to say it's racist, blue is not a race, it's the furthest thing from it."
The family said it would appeal the decision at the next HOA meeting.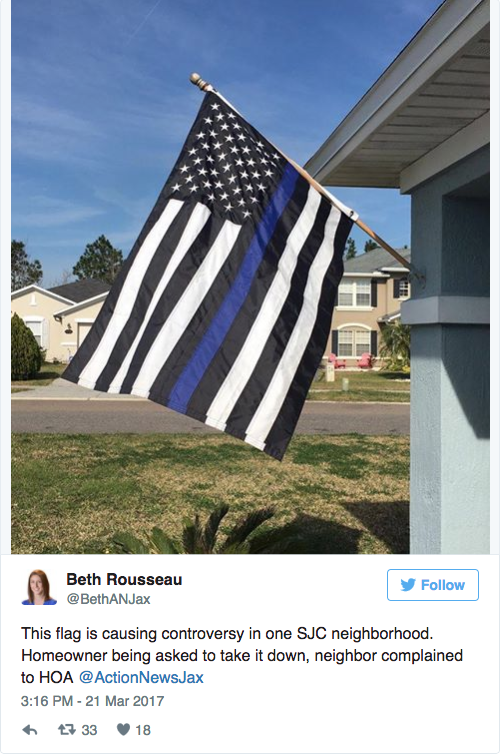 [revad2]