Actor Gary Sinise and military senior enlisted advisors were honored on Tuesday by the USO of Metropolitan Washington-Baltimore and Marine Corps Gen. Joe Dunford, the chairman of the Joint Chiefs of Staff, for their service to the military, Defense.gov reported.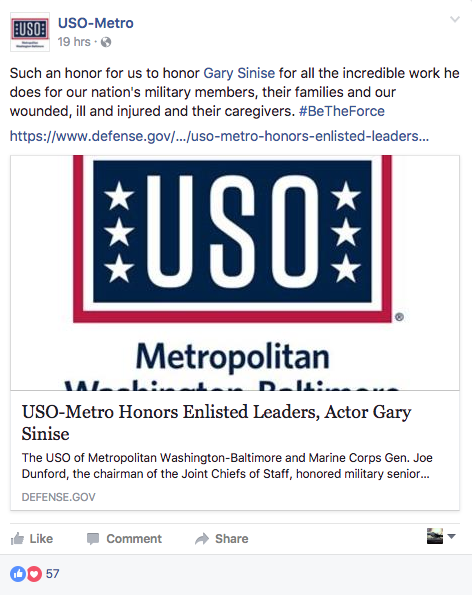 Sinise was awarded the Legacy of Hope Award at a gala from the United Service Organizations. He became the first individual to receive the USO-Metro's highest award. Additionally awards were presented to non-commissioned officers in the United States military as well as their wives.
Over the years, Sinise has worked tirelessly to support service members and their families as well as police officers.
In 2011, the Gary Sinise Foundation was founded to support the men and women that serve as well as their families. Before that, Sinise dedicated much of his time "to those who are currently serving, have served, our first responders, and the families who serve alongside them," Sinise wrote in a statement.
Sinise has also entertained the troops all around the world with the Lt. Dan Band, a band named after the character Sinise plays in the the academy award-winning film "Forrest Gump."
"When I first started doing this, no one knew my name, but they had all seen the movie so they called me Lieutenant Dan," he said. "My first visit to Bethesda-Walter Reed was on Sept. 11, 2003. It was a tough time. … We were losing way too many troops, there were way too many Gold Star families, way too many wounded. I just wanted to do something."
"After Sept. 11, we had a whole new generation of Lieutenant Dans coming home," Sinise added. "There was a role for me to play. Who would have thought that playing a role in a movie could actually mean something?"
On Tuesday, Marine Corps Gen. Joe Dunford spoke on Sinise's selfless service and an encounter he once had with him at a military hospital in Balboa, California.
"It was a quiet Saturday morning, and as we were walking through the ward, there was a little bit of a hubbub in front of us," Dunford said, Defense.gov reported. "As we walked up, there was Gary Sinise. There [weren't] any cameras rolling, there wasn't any media covering anything. It was a Saturday, and Gary Sinise was there to entertain troops at Camp Pendleton. But before that, he had a personal interaction with each one of the troops and each of the families, and you could tell when he left the room that they knew this was somebody who, in his heart, actually, genuinely cared."
"For all the things he's done, I think what I am most appreciative of is that Gary cares for the people that I call my family," Dunford added.
Last week, Sinise was also awarded the George Catlett Marshall Medal from the Association of the United States Army. The award is given to those that continually support the men and women that serve in the armed forces. He will be accepting AUSA's highest award for distinguished public service at the Marshall Dinner on Oct. 11.
Past recipients of the George Catlett Marshall Medal include former presidents George H.W. Bush, Harry S. Truman, Dwight D. Eisenhower and Gerald Ford. Retired Army generals Lyman Lemnitzer, Colin Powell, Bernard Rogers, Maxwell Taylor and John Vessey Jr as well as many others have previously received the award.
[revad2]