On Thursday, Vice President Mike Pence traveled to the Hudson Valley in New York state to visit the United States Military Academy (USMA), also known as West Point. Despite a major snow storm in the area, the Vice President and his wife were able to complete the visit in which Pence delivered a speech during an awards dinner to honor Henry O. Flipper, a former slave who went on to be the first African-American citizen to graduate from the academy. Before leaving, Pence used his executive authority to grant amnesty for minor offenses to the cadets.
"I came here on behalf of the President of the United States, your Commander-in-Chief, President Donald Trump, and I bring you his greetings and his gratitude," Pence began. "I left the Oval Office when I headed to West Point this afternoon, and the President insisted that I send his greetings to all of you, his heartfelt thanks for your willingness to serve our great country.
Mike Pence told the cadets that they "are all already true leaders" and "are all already patriots."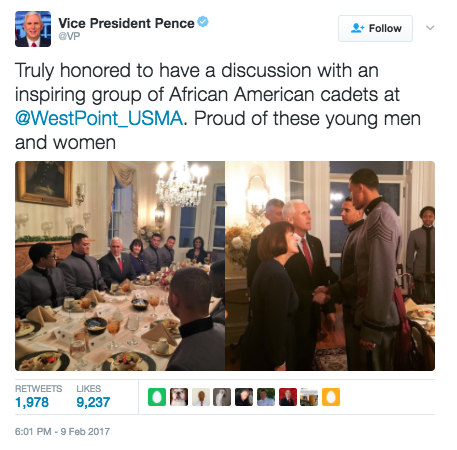 He also honored Henry Flipper's life, legacy, and dedication to the nation, as well as the other African Americans that have served the country in honor of Black History Month.
"And during this month, African American History Month, but not only this month, we remember them and we thank them for what they did.  Their names and their sacrifices will never be forgotten," Pence said. "For they understood the promise of America — the timeless ideals that bind us together as a people, and give us purpose as a nation."
During his speech, Vice President Pence ensured the cadets that the Trump administration was going to have a tough stance against ISIS.
"Make no mistake about it: President Trump and this administration and this country will not rest until these enemies are destroyedThe forces of radical Islam terrorism seek to destroy not only our people, but our very way of life.  The barbarians known as ISIS are brutally killing anyone who stands in the way of their attempts to establish a global caliphate.  They will not stop until we stop them.  And we will stop them," Pence said, to which the crowd responded with a loud applause.
Before he left, Mike Pence used his executive authority to grant amnesty to cadets for their minor offenses. Politico stated that according to a pool report, Pence's actions garnered "waves of applause through the cavernous dining hall."
You can listen to Pence's full speech below (begins at 1:08:45):
[revad2]