During an interview on CNBC's "Fast Money Halftime Report" on Tuesday, Under Armour CEO Kevin Plank stated that he was a big fan of President Donald Trump and that he believes Trump is "a real asset for the country." Plank's remarks come after his January meeting at the White House which included other major business leaders to discuss the future of manufacturing and job creation in America. His opinion garnered a slew of negative responses from people who disagree with President Trump's policies.
"To have such a pro-business president is something that is a real asset for the country," Plank told CNBC . "People can really grab that opportunity."
Plank also praised President Trump's plans to improve infrastructure, build a border wall with Mexico, and boost manufacturing in America.
"He wants to build things. He wants to make bold decisions and be really decisive," he said.
"I'm a big fan of people that operate in the world of 'publish and iterate' versus 'think, think, think, think, think,'" Plank continued. "So there's a lot that I respect there."
Plank's praise of the President resulted in strong responses from opinionated Americans all across social media. Many of those sharing their protest to Plank pledged to boycott the company.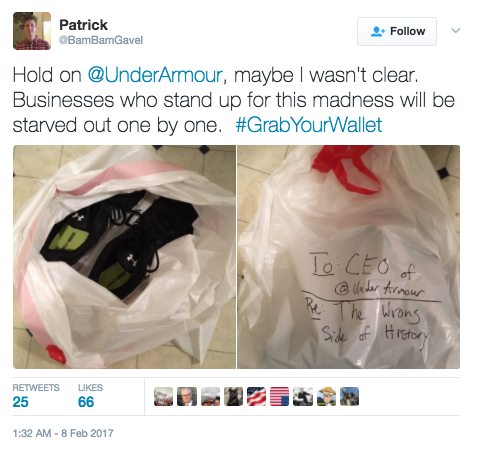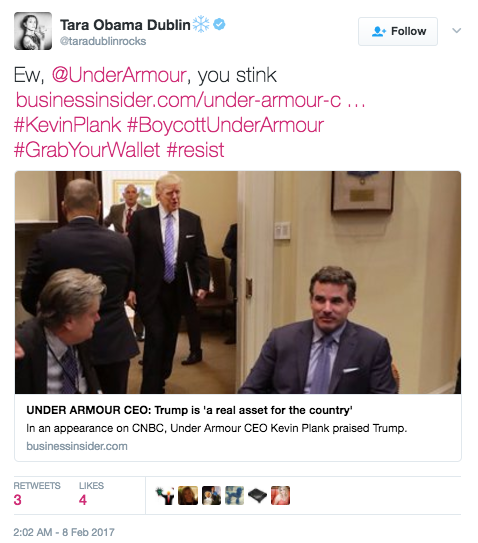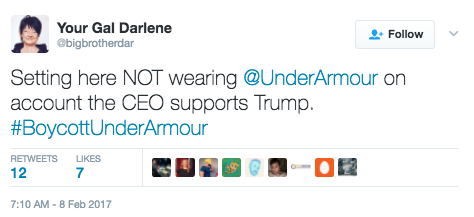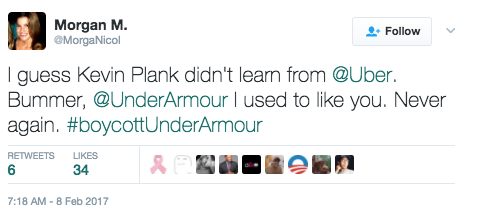 On Wednesday, the company released a statement to clarify Plank's remarks:
"At Under Armour, our culture has always been about optimism, teamwork, and unity. We have engaged with both the prior and the current administrations in advocating on business issues that we believe are in the best interests of our consumers, teammates, and shareholders. Kevin Plank was recently invited at the request of the President of the United States, to join the American Manufacturing Council as part of a distinguished group of business leaders. He joined CEOs from companies such as Dow Chemical, Dell, Ford, GE and Tesla, among others to begin an important dialogue around creating jobs in America. We believe it is important for Under Armour to be a part of that discussion. We have always been committed to developing innovative ways to support and invest in American jobs and manufacturing.

We have always been committed to developing innovative ways to support and invest in American jobs and manufacturing. For years, Under Armour has had a long-term strategy for domestic manufacturing and we recently launched our first women's collection made in our hometown of Baltimore, MD. We are incredibly proud of this important first step in the evolution of creating more jobs at home.

We engage in policy, not politics. We believe in advocating for fair trade, an inclusive immigration policy that welcomes the best and the brightest and those seeking opportunity in the great tradition of our country, and tax reform that drives hiring to help create new jobs globally, across America and in Baltimore.

"We have teammates from different religions, races, nationalities, genders, and sexual orientations; different ages, life experiences, and opinions. This is the core of our company. At Under Armour, our diversity is our strength, and we will continue to advocate for policies that Protect Our House, our business, our team, and our community."
[revad2]