During a recent interview, Arnold Schwarzenegger said that he wanted to smash President Trump's face into a table.
The former California governor and current host of "Celebrity Apprentice" has been feuding with President Trump for the past several months after Trump tweeted about the shows low ratings in January.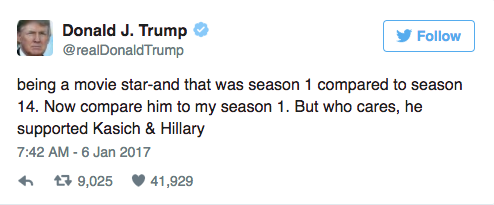 Prior to Schwarzenegger's debut as host of the reality show, he said that he wouldn't be voting for Trump in the election.
Trump then criticized him on how he performed as governor of California as well as host of the "Celebrity Apprentice."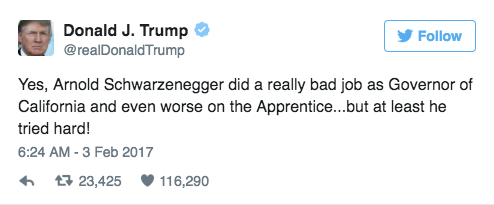 "I called my assistant and said, 'I think what we really should do is request a meeting and go back to New York. And then we just smash his face into the table,'" he told Men's Journal.
"And then I think, 'We can't do that, either. I think I have to be above all of that and put him on the spot,'" he added.
Last week, President Trump told the audience at the National Prayer Breakfast in Washington to pray for Schwarzenegger and the ratings.
"They hired a big, big movie star, Arnold Schwarzenegger, to take my place, and we know how that turned out," Trump said. "The ratings went right down the tubes."
Schwarzenegger later posted a video on social media saying, "I have a great idea! Why don't we switch jobs? You take over TV since you're such an expert in ratings, and I take over your job and people can finally sleep comfortable again."
[revad2]