A military judge has ruled against dropping charges against Army Sgt. Bowe Bergdahl after Bergdahl's lawyers argued that comments made by President Donald Trump prior to the 2016 presidential election violated their client's due process rights. Bergdahl, who is facing charges of desertion and endangering fellow soldiers, was highly criticized by Donald Trump while he was running for office. Though Bergdahl's lawyers stated that they do not believe their client would get a fair trial under the Trump administration, judge Army Col. Jeffery Nance said that Trump's comments did not qualify as a due process violation.
"The comments by Mr. Trump that might be considered pretrial publicity are not so pervasive and unfair as to saturate the community and prevent any trier of fact from being impartial," Col. Nance wrote.
"Mr. Trump has said nothing about the accused or his case since August 2016," Col. Nance continued. "Under these facts, the court cannot find a due process violation sufficient to make amelioration measures futile."
During the 2016 presidential campaign, Donald Trump made comments such as he thought Bergdahl was "a dirty rotten traitor" for leaving his post and endangering the lives of others. Five soldiers died while looking for Bergdahl.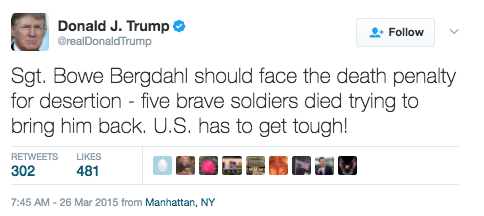 After Bergdahl left his post, he was held as a Taliban prisoner until 2014 when the Obama administration was able to get him back to the United States through a prisoner swap. Bergdahl was released in exchange for five Guantanamo Bay detainees, a move which Trump called a "very bad deal" on numerous occasions. President Trump also added that "in the good old days, he would have been executed."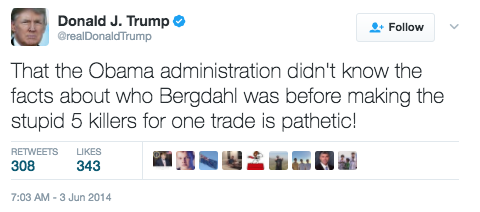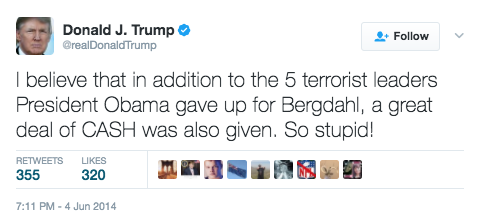 On Saturday, Bergdahl's chief defense lawyer told CNN that his legal team would that the case to the U.S. Army Court of Criminal Appeals on Monday.
"The military judge's decision was wrong," Bergdahl's chief defense lawyer, Eugene Fidell, told CNN. "Extraordinary relief is required to protect Sgt. Bergdahl's rights to protect the integrity of the military justice system."
Fidell said that Trump's statements constituted "unlawful command influence" and that the President "has tremendous influence over the entire system."
[revad2]