On Monday, Secretary of Defense Jim Mattis said he believes that the United States will remain in Iraq to continue the fight against ISIS "for a while." While speaking with Iraq's top military commanders and political leaders during his trip to Baghdad, Mattis stated that he is open to requests from U.S. commanders about aid in helping Iraq gain back control the city of Mosul which had been taken over by the Islamic State.
"I imagine we'll be in this fight for a while and we'll stand by each other," Mattis said.
The Secretary of Defense added that there's no doubt "the Iraqi people, the Iraqi military and the Iraqi political leadership recognize what they're up against and the value of the coalition and the partnership, in particular with the United States."
"I don't anticipate that we'll be asked to leave by the government of Iraq immediately after Mosul." He added, "I think that the government of Iraq realizes their very complex fight, and they're going to need the assistance of the coalition even beyond Mosul."
Mattis also responded to Iraqi leaders' concerns over some recent comments and actions taken by President Donald Trump that have made lawmakers put pressure on Iraqi Prime Minister Haider Al-Abadi to reduce cooperation with the U.S.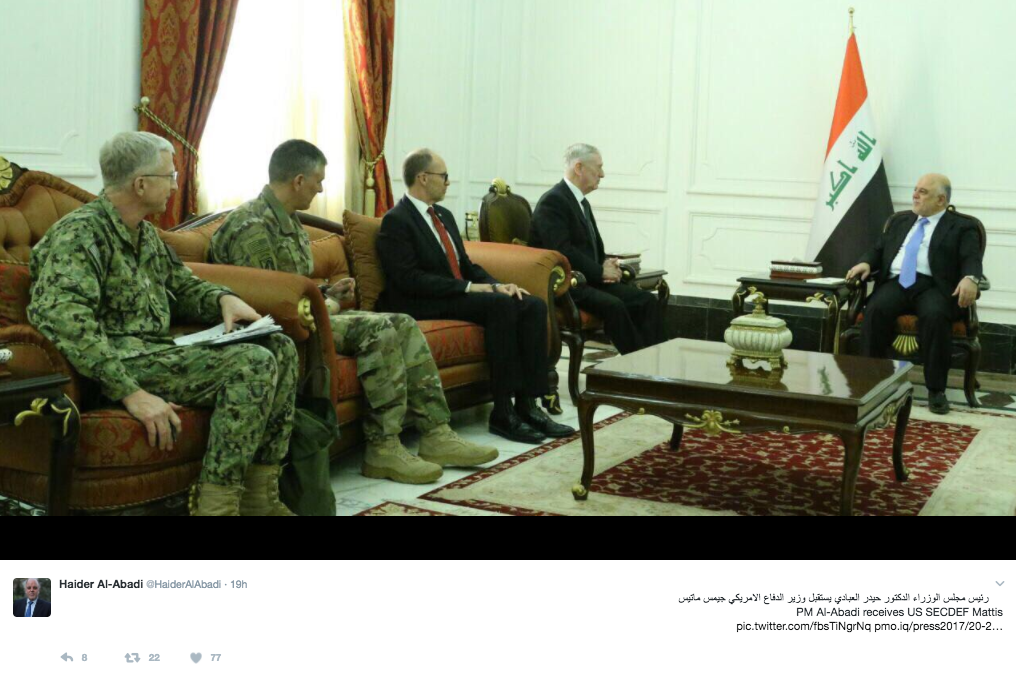 In January just after his inauguration, President Trump spoke at the CIA headquarters and stated that if the U.S. had kept the oil in Iraq there would be no ISIS.
"If we kept the oil, you probably wouldn't have ISIS because that's where they made their money in the first place," Trump said. "So we should have kept the oil, but, OK, maybe we'll have another chance."
Mattis quelled their concerns by letting them know seizing oil is not why the United States is in Iraq.
"I think all of us here in this room, all of us in America have generally paid for our gas and oil all along, and I'm sure that we will continue to do that in the future," Mattis told reporters traveling with him. "We're not in Iraq to seize anybody's oil."
[revad2]