At least 48 people are dead, and over 50 injured, after a car packed with explosives blew up near car dealerships in the Iraqi city of Baghdad. It's the third bombing Iraq's capital has seen in the past three days. According to AFP, the Islamic State has claimed responsibility for the attack.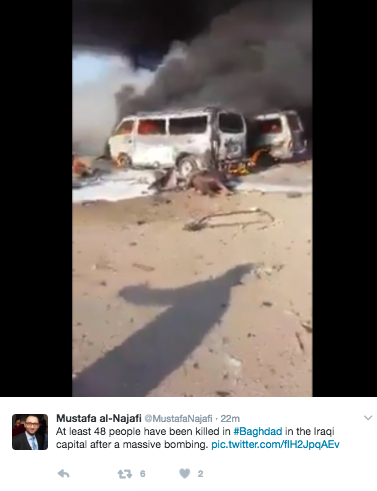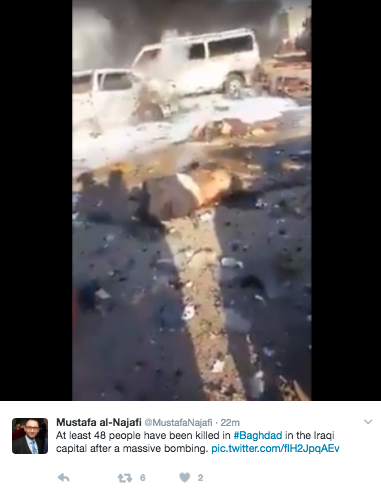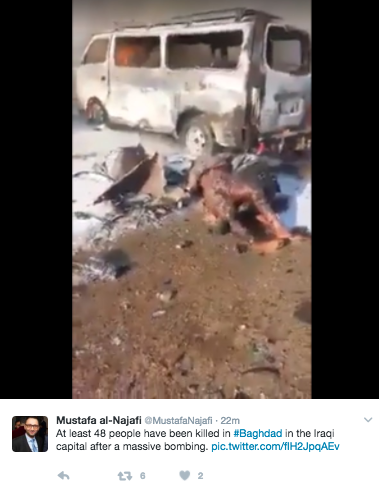 The State Department released a statement on Thursday condemning the attack:
We condemn in the strongest possible terms the horrible terrorist attacks carried out by ISIS targeting a car dealership in Baghdad, Iraq today. It is estimated that nearly fifty people were killed and many more injured. We extend our deepest condolences to the victims' families and friends, and wish a full and quick recovery to those injured.

These acts of mass murder are yet another example of ISIS's utter contempt for human life and its efforts to sow discord and division among the Iraqi people. Our partnership with the Iraqi Security Forces, who serve on the front-lines of this global fight, remains steadfast and unwavering. We are in close contact with Iraqi authorities, and are committed to supporting Iraqi Security Forces as they continue to fight ISIS in Mosul, and bring all those responsible for these senseless crimes to justice.
[reavad2]