On Wednesday, President Donald Trump is expected to sign an executive order that would put a temporary ban on most refugees, except religious minorities looking to escape persecution,  coming from six Middle Eastern and African countries that are breeding grounds for terrorism until the United States can implement a better vetting process. According to Reuters, Congressional aides and immigration experts that were briefed on the plan add that Trump will be suspending citizens here on visas from those nations as well. According to sources that Reuters says asked not to be identified, the order would block visas from those from Syria, Iraq, Iran, Libya, Somalia, Sudan, and Yemen.
"The countries covered by the ban all have active terrorist organizations and cells," Michael Krull, adjunct professor of politics at Georgetown University and executive at Resilient Corporation, told American Military News. "This is a common-sense move to protect the citizens of the United States.  It is a temporary ban to be in place until a more rigorous visa application review process can be implemented."
On Tuesday, Donald Trump tweeted from his personal Twitter account that Wednesday would be a big day for national security.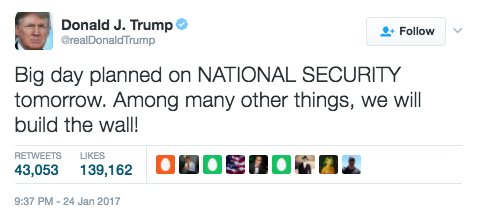 During his presidential campaign, Donald Trump was a strong advocate for placing a temporary ban on the massive influx of refugees from Middle Eastern and African nations that were breeding grounds for terror.
In March of 2016, Trump tweeted that Europe and the U.S. must immediately stop taking in people from Syria.
"Europe and the U.S. must immediately stop taking in people from Syria," he said.
This will be the destruction of civilization as we know it! So sad!"
Trump also criticized former President Obama's decision to keep them coming in.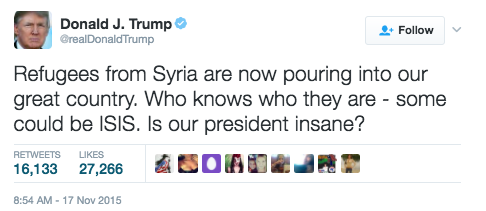 Former President Obama took tens of thousands of Syrian refugees in the final months of office. The bulk of those admitted were relocated to Michigan, California, Arizona, and Texas.
[revad2]