On the same day he commuted Chelsea Manning, President Obama also commuted Oscar Lopez Rivera, the leader of the Radical Puerto Rican nationalist group Armed Forces of National Liberation (FALN) that was responsible for over 100 bombings in the United States during the 1970's. Lopez Rivera was sentenced to 55 years in 1981 for conspiring to overthrow the U.S. government. He was later sentenced to an additional 15 years for conspiring to escape, conspiring to transport explosives with intent to kill and injure people, and conspiring to destroy government buildings and property. Though his sentence was supposed to be served until 2051, President Obama's commutation means Lopez Rivera will now be a free man on May 17, 2017.
Under Lopez Rivera's rule, FALN planted more than 120 bombs across the United States, looking to achieve Puerto Rican independence by destabalizing what they called the "Yanki capitalist monopoly." In 1983, Lopez Rivera told federal judge Thomas McMillen, "I am an enemy of the United States government."
In January 1975, four people were killed after the radical domestic terror group planted a 10-pound dynamite bomb at Fraunces Tavern in downtown New York.
Upon President Obama's announcement, New York Mayor Bill de Blasio applauded the President for freeing a man who led the group that was responsible for planting bombs around the city he now leads.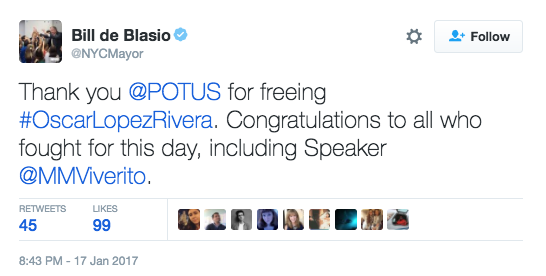 Rivera Lopez and several of his cohorts became fugitives after authorities raided a Chicago apartment that was home to a FALN bomb-making factory.
During his Presidential campaign, self-proclaimed Democratic Socialist Bernie Sanders advocated that President Obama should let him out.
"Oscar Lopez Rivera has served 34 years in prison for his commitment to Puerto Rico's independence," Sanders tweeted in May. "I say to President Obama: let him out."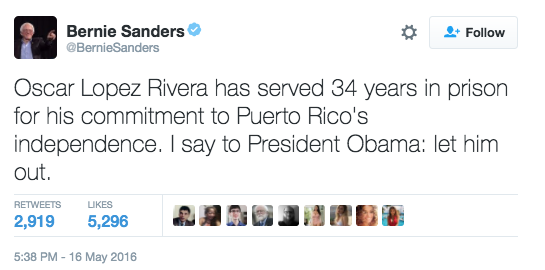 Former President Bill Clinton offered to commute the sentences of Lopez Rivera and other FALN members but Lopez Rivera refused on the condition that in order to be released he would need to disavow his former acts of terror.
[revad2]