On Thursday, the first three female infantry marines to serve in the U.S. military will join 1st Battalion, 8th Marines at Camp Lejeune, North Carolina.  They will serve in the infantry military occupational specialties of rifleman, machine gunner and mortar Marine. The three women are the first of 31 female marine recruits who signed infantry contracts to graduate boot camp after Defense Secretary Ash Carter issued a mandate opening previously closed ground combat jobs to women last year.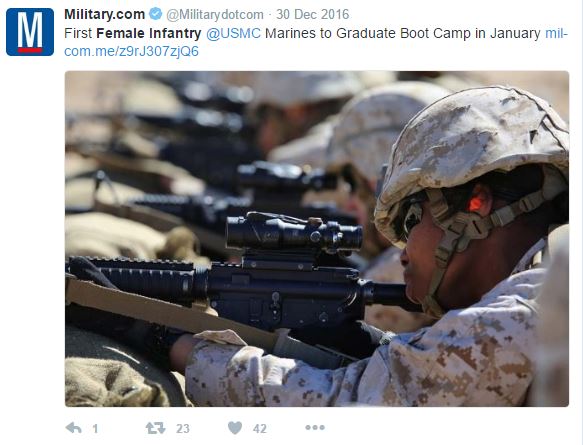 Of the 31 female recruits to sign infantry, 21 have active-duty contracts for "03XX" ground infantry jobs. Nine other women have committed to four different artillery, vehicle and air support jobs that include artillery cannoneer, armor Marine, assault amphibious vehicle Marine, and low-altitude air defense gunner. The last woman has enlisted on a reserve contract as a light armored vehicle Marine.
The female recruits began boot camp this fall in Parris Island, South Carolina where the Marine Corps only all-female recruit training battalion resides. Capt. Gregory Carroll, Parris Island spokesperson, told Military.com that nine women with infantry contracts are currently undergoing training at the base.
According to a release from October, two of the female recruits have been identified as Maria Daume of Long Island, New York and Katelen Van Aken of Dover, New Hampshire. Van Aken told reporters that she was determined to earn an infantry role at the time of the release.
"It's what I want to do, so that's the end of it, and everyone knew not to try to change my mind," she said. "When it became available, I jumped at it. It's what I've been working half a year for."
The women competing for infantry roles were required to complete an initial gender-neutral strength test at the time of enrollment. The test isn't "gender-normed", or altered depending on gender, as it is for non-infantry roles. The strength test consisted of a 1.5-mile run to be done within 13 minutes and 30 seconds; three pull-ups; 45 lifts of a full ammo can within two minutes; and 44 crunches within a two minute time span.
After eight weeks of boot camp, the women were required to complete another "classification standard" test consisting of six pull-ups, 60 ammo can lifts within two minutes, timed movement-to-contact and maneuver-under-fire exercises, and a three-mile run in just under 25 minutes.
The Obama administration pushed for gender integration into combat roles despite reports from a gender integration study found that mixed-gender teams did not perform as well as all-male teams and that female Marines were more likely to get injured. It is unclear whether President-elect Donald Trump will continue to pursue gender integration. Trump's nominee for defense secretary, Retired Marine Gen. James Mattis, commented on "shortsighted social programs" that he believed could threaten the integrity of the U.S. military during a interview with Military Times in September.
[revad2]