In Trainer Borough, Pennsylvania, police officers came together to organize a motorcade to a young boy's house in order to honor him for his efforts. Five-year-old Avery Graham has spent the last few months raising money for one of the officers who has stage four cancer.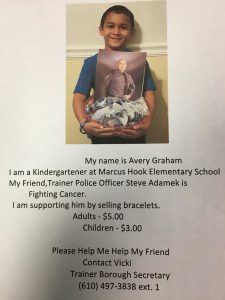 The stream of squad cars came down his neighborhood street to stop in front of Avery's house, bathing the house in the red and blue light. The boy stood outside his house and enjoyed the show, not knowing that the department had custom ordered a uniform in his size.
Officer Steve Adamek walked up and handed Avery his Trainer Borough PD uniform. He immediately ran inside his home to put it on.
"For him to go this far, I had to give something back," a tearful Adamek told local reporters.
Avery Graham came out proudly donning his sharp uniform, and was further surprised with a ride along in one of the squad cars.
"I like my uniform," he quietly told reporters.
[revad2]