On Friday while speaking at the White House, Donald Trump said that Secretary of Defense James Mattis' opposition to torture will override his own favorable opinion on torture.
Trump said that despite that he does not "necessarily disagree" with Mattis on the issue, but he will let Mattis' opinion "override" him.
"He will override," Trump said. "I'm going to rely on him…I am going with our leaders. We are going to win with or without [torture]."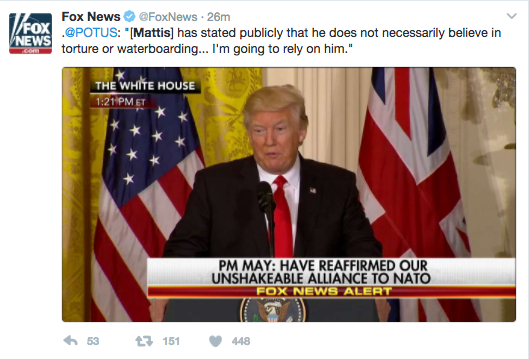 "As far as I'm concerned, we have to fight fire with fire," Trump said during an interview on ABC News with David Muir on Wednesday. "With that being said, I'm going with General [James] Mattis. I'm going with my secretary because I think [Mike] Pompeo's gonna be phenomenal. I'm gonna go with what they say."
Mattis has publicly said that he does not support torture.
Trump told the New York Times in November that he was surprised to hear Mattis' opinion on torture when he asked him.
"He said — I was surprised — he said, 'I've never found it to be useful.' He said, 'I've always found, give me a pack of cigarettes and a couple of beers and I do better with that than I do with torture.,'" Trump told the New York Times.
[revad2]