On Sunday, the Revolutionary Black Panther Party participated in a news conference that was held in front of the New Hanover County Courthouse in Wilmington, North Carolina. Because of where the news conference took place, law enforcement was present. Members of the Black Panthers were armed with loading weapons, forcing the local police to confiscate their guns.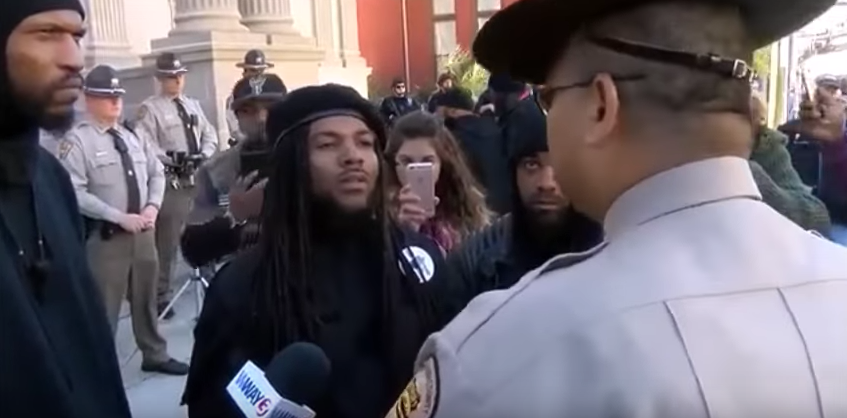 In North Carolina, it is illegal to carry a firearm at any protest that takes place on state owned land. The New Hanover County deputy told the group leader Dr. Alli Muhammad they were in violation of the law. Without incident, members of the group surrendered their weapons. The guns were confiscated and taken to the sheriff's office. Group members were informed they could pick their weapons up on the next business day.
Among the confiscated weapons were two revolvers, three shotguns, and five semi-automatic pistols; all of which were loaded. Black Panther members customarily wear masks that cover their faces. The sheriff ordered them to lower the masks as this is also prohibited at meetings or demonstrations under North Carolina state law.
It wasn't until police arrived and raised their weapons to the crowd that they got any reaction from the Panthers. Family members of Brandon Smith, who was shot and killed by officers in 2013 after he shot a deputy, were among the protesters. It was at the request of Smith's sister, Georgia Davis, who joined the Black Panthers after her brother's death that the group travelled to Wilmington.
Davis is seeking justice for her brother's death. She claims his death was premeditated by law enforcement officers and that she was beleaguered by police after her brother's death. Davis said, "Something has to be done. We just want justice for my brother, because what they did was wrong."
[revad2]