On Monday, President-elect Trump took to Twitter to blast F-35 fighter jet program, the nation's most expensive weapons program in all of American military history. Since it's development in 2001, the Lockheed Martin product has cost over $400 billion dollars to produce and has had its production delayed numerous times. The F-35 is said to be the world's most sophisticated warplane, fully equipped with stealth capabilities which allow the aircraft to escape or delay detection, even by the most top-of-the-line radar systems.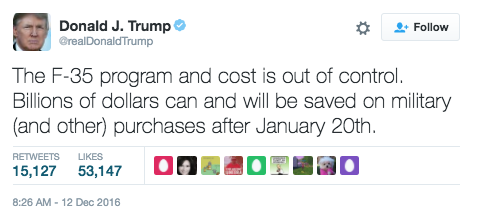 "The F-35 program and cost is out of control. Billions of dollars can and will be saved on military (and other) purchases after January 20th," President-elect Trump tweeted on Monday, referring to the date he takes office.
Before Monday's tweets targeting the expensive military fight jet, Trump appeared on Fox News Sunday and expressed similar words of disapproval.
"If you look at the F-35 program with the money, the hundreds of billions of dollars, and it's out of control," Trump told host Chris Wallace. "And the people that are making these deals for the government, they should never be allowed to go to work for these companies."
Following Trump's appearance on Fox News Sunday, a Lockheed Martin spokesman told The Wall Street Journal they "look forward to working with the president-elect and his administration to further build on the F-35 program's record of demonstrated performance and affordability."
The F-35 will be produced for the Air Force, Navy, and the Marine Corps; though it is not yet available for the Navy. Each branch has its own unique model of the F-35, each varying in price. The F-35A (Air Force) costs $98 million, the F-35B (Marine Corps) costs $251 million, and the F-35C (Navy) costs $337 million. In April, Lockheed Martin CEO, Marilyn Hewson, told CNBC that the company is "on a path to be down to a price of $85 million per jet by 2019."
The F-35 has also been purchased from Lockheed Martin by international buyers such as Britain, South Korea, Israel, Italy, Australia, Canada, Turkey and Japan.
On Monday, SECDEF Ash Carter was in Israel as a batch of F-35s were delivered.
[revad2]