On Tuesday, President-elect Trump formally announced that he selected Rex Tillerson, the Exxon Mobil Chairman and CEO, to be Secretary of State. Trump tweeted early Tuesday morning that what he likes best about Tillerson as his pick for the nation's top diplomat "is that he has vast experience at dealing successfully with all types of foreign governments." The 64-year-old business man has gained a reputation of building strong relations with foreign leaders while negotiating deals around the world as an oil tycoon for over 40 years.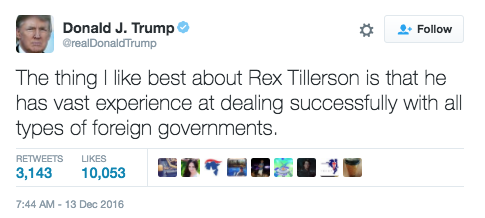 "Rex Tillerson's career is the embodiment of the American dream," Trump said in a statement. "Through hard work, dedication and smart deal making, Rex rose through the ranks to become CEO of ExxonMobil, one of the world's largest and most respected companies."
"His tenacity, broad experience and deep understanding of geopolitics make him an excellent choice for Secretary of State," the statement continued. "He will promote regional stability and focus on the core national security interests of the United States. Rex knows how to manage a global enterprise, which is crucial to running a successful State Department, and his relationships with leaders all over the world are second to none. I can think of no one more prepared, and no one more dedicated, to serve as Secretary of State at this critical time in our history."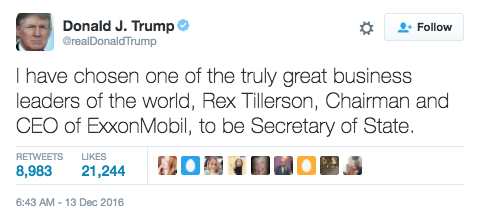 Tillerson accepted Trump's appointment in a statement on Tuesday.
"I am honored by President-elect Trump's nomination and share his vision for restoring the credibility of the United States' foreign relations and advancing our country's national security," Tillerson said. "We must focus on strengthening our alliances, pursuing shared national interests and enhancing the strength, security and sovereignty of the United States."
Tillerson has built a working relationship with Russia and Vladimir Putin which is a plus for Trump who has praised Putin as a strong leader. Mitt Romney, who was one of the leading candidates for Secretary of State before Tillerson was chosen, has been strong in his criticism for Russia, famously calling them America's "number one geopolitical foe" during his 2012 Presidential campaign. As Secretary of State, Tillerson's attitude towards Russia is much more inline with Trump's stance on the world's largest nation.
Romney posted on Facebook late Monday night, saying he was honored to have been considered for the position.
"It was an honor to have been considered for Secretary of State of our great country," Romney said. "My discussions with President-elect Trump have been both enjoyable and enlightening. I have very high hopes that the new administration will lead the nation to greater strength, prosperity and peace."
On Tuesday, the State Department released a statement from John Kerry offering a congratulations for the man that would hold his position next.
"I congratulate Rex Tillerson on his nomination as Secretary of State," Kerry's statement read. "The State Department will continue to provide our full support for a smooth transition, so that the incoming Administration can pursue the important work of U.S. foreign policy around the world."
[revad2]