According to Der Spiegel, a German intelligence officer has been exposed as an Islamist terrorist infiltrator suspected of plotting to bomb the agency's headquarters. A 51-year-old official has been arrested after being said to have made a "partial confession" to plotting the attack. An official told Der Spiegel that the suspect tried passing on "sensitive information" about the Germany's domestic security agency, the BfV, which "could lead to a threat" at their spy office.
A BfV spokesman told the newspaper that the suspect "is accused of making Islamist remarks online under a false name, and offering internal information during chats." The spokesman also added that the accused infiltrator "behaved inconspicuously" before being arrested and had been working on gathering intelligence on Islamist extremists throughout Germany since April.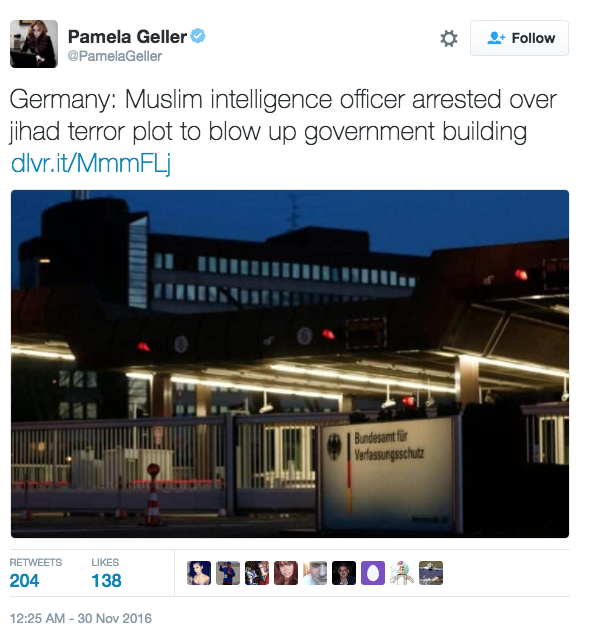 About a month ago, the suspect was found to be using various usernames in online communications with radical Islamists to try and recruit them to join the intelligence agency as well, imploring them to help execute a bomb attack against "non-believers" at the agency's headquarters "in the name of Allah" from within. The man's family claimed to know nothing of his conversion to Islam, radicalization, or plot against the headquarters.
The head of the BfV, Hans-Georg Maassen, told Reuters earlier this month that Germany remains "a target of Islamic terrorism" and that they "have to assume that Islamic State or other terrorist organization will carry out an attack in Germany if they can."
Germany has seen an increase in Islamic terror attacks since 2015. Since late last year, they've seen a handful of knife attacks as well as a German-Iranian with a gun that killed nine people at a mall in Munich. ISIS claimed the mall attack as well as an attack on a train in Wuerzburg in July where asylum-seekers injured 20 people with an axe.
[revad2]