After a day of confusion, it's official. At a rally in Cincinnati on Thursday night Trump told the crowd he would nominate General James "Mad Dog" Mattis for Secretary of Defense. He said a formal announcement will come Monday.
In an up and down day that saw all major media outlets, including this one report that Trump had nominated General James "Mad Dog" Mattis for his Secretary of Defense and Jason Miller, Trump's Communications Director then tweet that "no decision has been made yet with regard to Secretary of Defense," the rumors are finally proven true.
The Washington Post first broke the news today from "sources within the Trump transition team" that President-elect Trump had selected General James "Mad Dog" Mattis as his Secretary of Defense. After every major media outlet in the country, including this one, reported it, Jason Miller, put out his denial. However, it appears Trump wanted to get ahead of the story and decided to speak at the crowd in Cincinnati.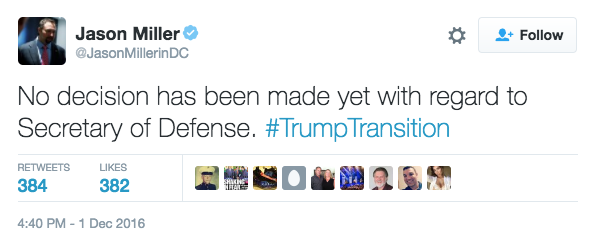 Following the mass media confusion, Jason Miller told The Washington Examiner: "My sources are better than their sources. Trust me on that one."
Despite Jason Miller's initial denial, Donald Trump Jr. initially tweeted a story saying Mattis has been chosen, then deleted it and instead posted Miller's denial.
The 66-year-old Mattis first enlisted in the Marine Corps in 1969 and retired in 2013 as a four star general and one of the most beloved Marines in American history. In 2010, Mattis was appointed by President Obama to replace General David Petraeus as commander of the United States Central Command.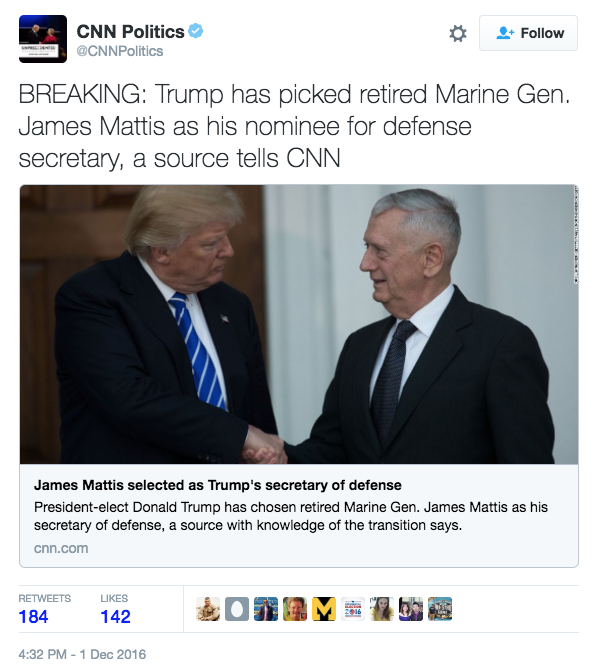 Last month, President-elect Trump confirmed on Twitter that James "Mad Dog" Mattis was being considered for for the position and that the meeting they had was "impressive."
Following their meeting, reporters asked President-elect Trump if he would choose Mattis for the position. "All I can say is he is the real deal," Trump replied. "He is the real deal."
[revad2]