On Sunday, President-elect Trump confirmed on Twitter that James "Mad Dog" Mattis is being considered for Secretary of Defense and that the meeting they held the day before was "impressive." The two men met for an hour on Saturday afternoon in Bedminster, New Jersey. A source told CNN that Mattis "can be considered the leading candidate for secretary of defense."
"General James 'Mad Dog' Mattis, who is being considered for Secretary of Defense, was very impressive yesterday. A true General's General!" Trump tweeted Sunday morning.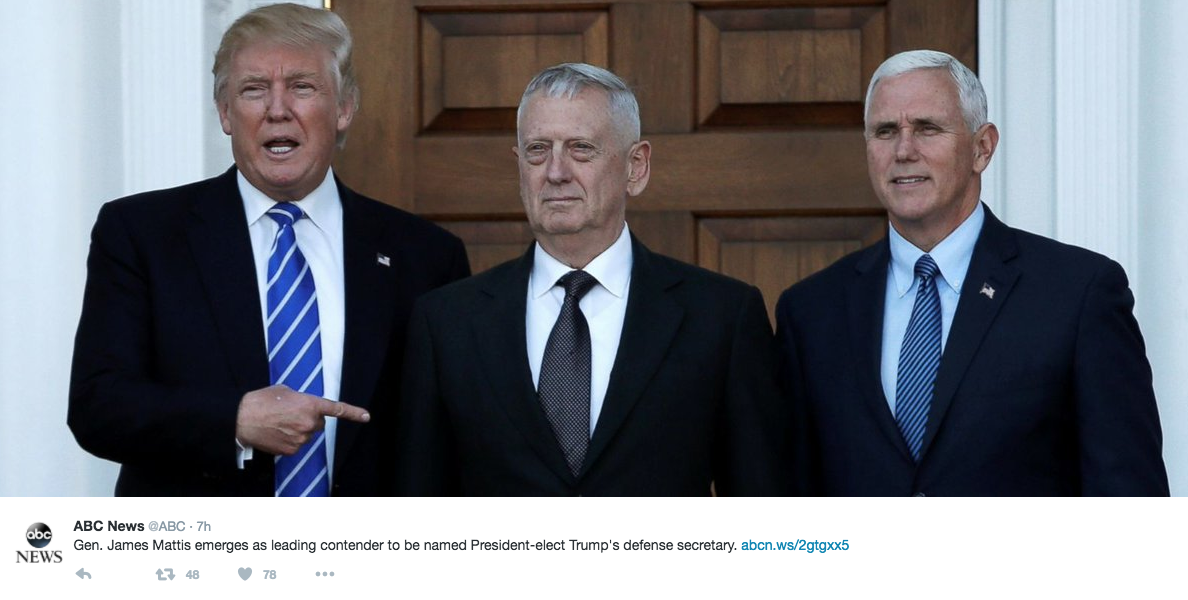 Following the meeting on Saturday, reporters asked President-elect Trump if he would choose Mattis for the position. "All I can say is he is the real deal," Trump replied. "He is the real deal."
If selected for the position, Mattis would need a special congressional waiver to serve as Defense Secretary. According to title 10 of the U.S. Code the Secretary of Defense must be be out of military uniform for a period longer than 7 years to reinforce the norm of civilian control. Mattis retired from the United States Marine Corps as recently as 2013.
Trump's transition team first broke the news on Friday that Mattis was being considered for to lead the Pentagon. Mattis first enlisted in the Marine Corps in 1969 and retired in 2013 as one of the most beloved four star generals. In 2010, Mattis was appointed by President Obama to replace General David Petraeus as commander of the United States Central Command.
[revad2]