Following Donald Trump's win early Wednesday, the President-elect had the chance to speak to Israel's Prime Minister and suggested the two should meet as soon as possible. PM Benjamin Netanyahu offered his congratulations to Trump by phone very soon after the results were in, and he also issued a video message praising the President-to-be. After eight years of declining relations between the U.S. and our middle eastern ally under the Obama administration, Netanyahu and the people of Israel were elated to once again have a friend in the White House.
A report from the Wall Street Journal said "A campaign aide said Mr. Trump's conversations with the leaders of Israel and Egypt—as well as Saudi Arabia —were congratulatory, not policy-focused."
The WSJ also added that "The president-elect invited Mr. Netanyahu, who has had a tense relationship with Mr. Obama, to meet as soon as is feasible, the aide said."
Netanyahu's office confirmed the account via Twitter stating that "President-elect Trump invited Prime Minister Netanyahu to a meeting in the United States at the first opportunity."
They also mentioned that the two men have known each other for a long time and held a "warm and heartfelt" conversation.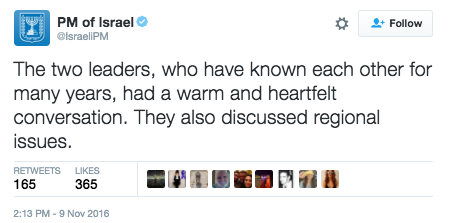 Prime Minister Netanyahu posted a public statement toPresident-elect Donald Trump where he offered a heartfelt congratulations where he called Trump a "great friend of Israel."
Relations between the U.S. and Israel weakened during the past eight years of the Obama Administration. Under Obama, Israel was routinely disrespected and made to feel obsolete, as the U.S. worked tirelessly to finalize the Iran Deal. Iran is one of Israel's greatest threats and has threatened that "Israel must be wiped out."
In a desperate plea for the Obama administration to stop the Iran talks before the Iran Deal was finalized, Netanyahu stood before Congress in March of 2015 and warned America and the world that the deal in question was a "bad deal," and that soon Iran will be completely nuclear unrestricted. Netanyahu's historic speech was skipped by 58 members of Congress in protest.
[revad2]