The South Korean Coast Guard has fired on Chinese boats illegally fishing in Korean waters for the first time, officials confirmed on Wednesday. Senior Coast Guard official Kim Jung-Shik told reporters that the order to fire came during a standoff between the South Korean Coast Guard and approximately 30 Chinese fishing boats illegally poaching fish near South Korea's Yellow Sea border with North Korea.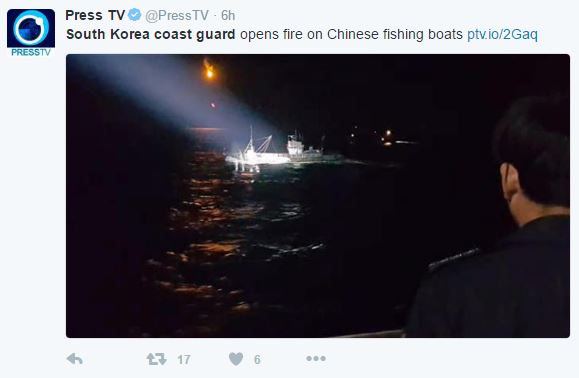 Jung-Shik told reporters that the vessels made the first aggressive move. He told the Yonhap news agency:
"They tried to ram our ships although we repeatedly warned them…I thought our officers would be in danger if I allowed any more resistance so we ended up using the crew service weapon,""
The Coast Guard fired off several warning shots before firing directly on the bows of several ships. Two Chinese fishing trawlers were seized at the end of the incident. No Chinese fishermen were harmed.
Chinese officials have condemned the actions of the Korean Coast Guard but have also stated that they will address the issue of Chinese fishermen constantly entering South Korean waters to fish. Chinese foreign ministry spokeswoman Hua Chunying told reporters:
"China will strengthen the management and discipline of our fishermen. We also hope China and South Korea can increase communication on this issue."
[revad2]