Sturm, Ruger & Co., Inc., one of the nation's leading manufacturers of firearms is showing a $40 million increase in their third quarter earnings. Wednesday, financial disclosures were filed that reported some $161.4 million in quarterly net sales, respectively. This put the company ahead by an excess of $100 million for the year. By September 2016, Ruger had earned $502.5 million in sales, surpassing last year's total of $398.7.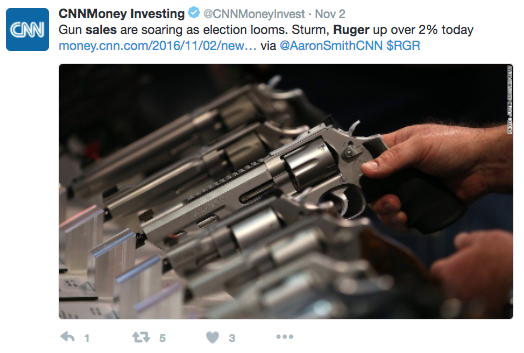 Connecticut based Sturm, Ruger & Co., Inc., reported a 66 percent increase for the quarter, making $19.85 million between August and October alone. Around $58 million of the sales in contributed to newer products, such as the Ruger Precision Rifle, ARs and LC9 pistols. The National Instant Criminal Background Check showed a 16 percent increase in activity. This database is used to determine overall sales.
Ruger's chief executive officer, Mike Fifer said, "If you look back at what happened eight years ago, there was, in my opinion, a surprising number of people who are actually surprised by the outcome at the last minute and then scrambled through November to try to get any product." Gun sellers report increasing sales as voters prepare for possibility of president who backs firearms restrictions.
[revad2]