On Wednesday, General David Petraeus told the BBC that he is willing to serve in the new administration if asked by President-elect Trump. During an interview on BBC Radio 4's Today program, the highly respected retired four-star general and former CIA director expressed that he believes there is only one response he could give if asked to serve, and that would be to say yes.
"If you're asked, you've got to serve – put aside any reservations based on campaign rhetoric… and figure out what's best for the country," Petraeus said.
"I've been in a position before where a president has turned to me in the Oval Office in a difficult moment, without any pleasantries, and said 'I'm asking you as your president and Commander in Chief to take command of the international security force in Afghanistan.'"
"The only response can be: 'yes, Mr President,'" he said.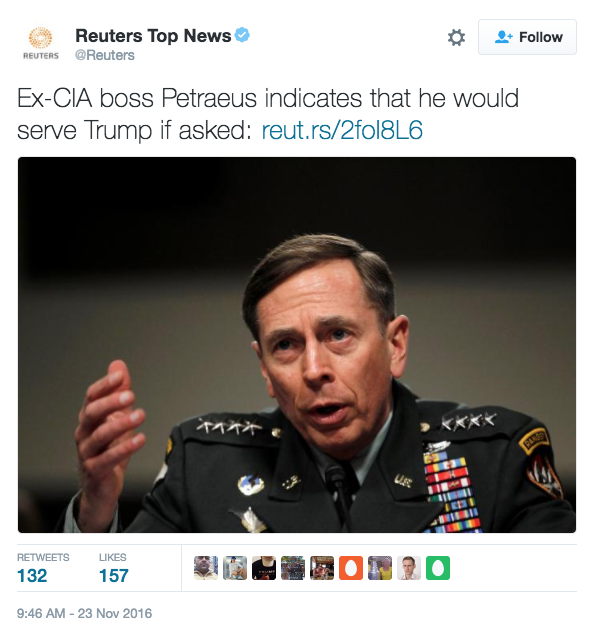 Petraeus went on to commend the President-elect by saying those who have been speaking with him about filling the various roles in the administration have spoken highly of him.
"It's interesting that those who have been talking to him have said, you know, he's very personable, very hospitable, very gracious guy, full of questions and dialogue," Petraeus told the BBC.
General Petraeus was a four-star general and served in the U.S. Army for almost 40 years. He was highly praised for his success in overseeing military operations in Iraq and Afghanistan. Soon after retirement in 2011, he went on to become CIA Director under President Obama and served in the position until 2012 when he was accused of sharing classified information with his biographer and mistress, Paula Broadwell.
Trump's transition team has been open about the President-elect's interest in placing General David Petraeus somewhere in the new administration. On Monday, the two are set to meet in New York to discuss the possibility of Secretary of State. The idea of Gen. Petraeus being Secretary of Defense has been floated around as well. Jack Keane told NPR that he declined Donald Trump's offer to be the next Secretary of Defense and followed up with suggesting Petraeus as a good alternative. Though he currently still has a chance for the position, the Trump transition team has suggested that General James "Mad Dog" Mattis is the lead contender for the role.
[revad2]