CNS News reports that the United States has taken a total of 13,210 Syrian refugees into the country this year, a 675% increase from the same 10-month period from the previous year. Of those, 99.1% of the relocated Syrians are Muslim and only 0.5% are Christian, despite the Christian genocide happening in the region.
The surge comes as the civil war in Syria worsens with President Assad al-Bashar bombing the city of Aleppo, killing thousands of his own civilians. Secretary of State John Kerry has attempted to intervene and stop the Syrian President, who claims he is going after terrorist groups in that region, from continuing the attacks but has failed to do so. Russia, who has been assisting Syria in their "anti-terror" efforts, have also refused to come to a diplomatic solution with the United States.
Secretary Kerry has pledged to increase the amount of Syrian refugees into the United States to 110,000.
According to NBC News, Michigan has seen the highest amount of Syrian refugees admitted into the country. According to the State Department, more than 1/10 of the 10,000+ taken in so far this year are headed to the Midwestern state. Most refugees have been relocated near Detroit, an already heavily Arab populated city.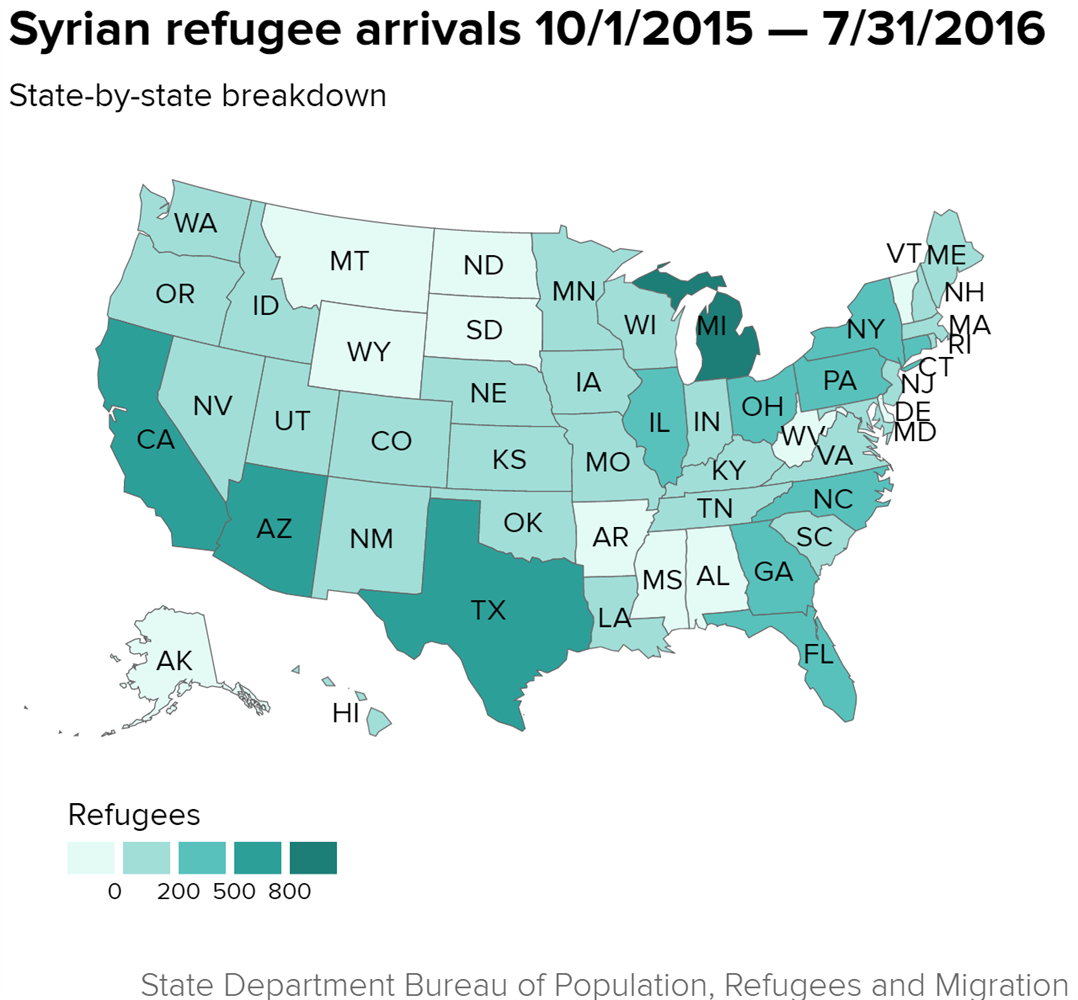 After the devastating terrorist attacks in Paris last year, the Republican Governor of Michigan, Rick Snyder, called for a halt on the increase of refugees from that region. Despite his efforts last November, Snyder's spokeswoman, Anna Heaton, told NBC News that the Governor "never suspended refugee resettlement."
"The governor suspended efforts to bring in additional refugees above and beyond the amount Michigan normally receives," Heaton told NBC News in an email. "This increase in Syrian refugee resettlement is not surprising as our state continues to be a welcoming home for refugees who go on to contribute to our economic comeback and Michigan's overall quality of life."
Just behind Michigan is California, followed by Texas and Arizona as having the highest number of refugee arrivals.
[revad2]