Melvin Laird, who served as Defense Secretary under President Nixon during the Vietnam War, has died at the age of 94. Laird, who was a nine term Wisconsin Congressman, played an integral part in the removal of U.S. troops from Vietnam and also had a key role in helping with the recovery process after Nixon's watergate scandal. Laird's grandson, Raymond Dennis Large III, confirmed that the World War II Veteran and Purple Heart recipient died in Florida on Wednesday.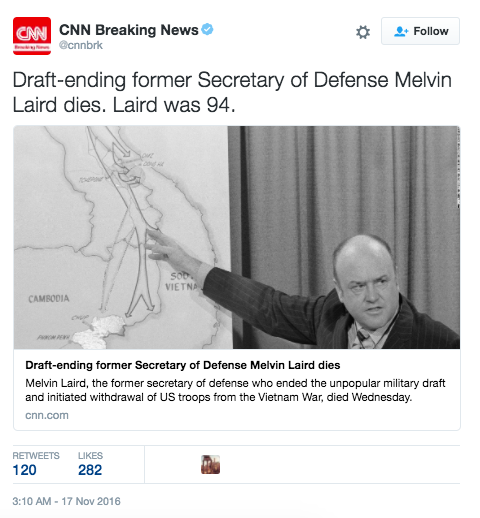 Laird was instrumental in ending the very unpopular military draft after he took office at the peak of the Vietnam War in 1969. Laird was the first Defense Secretary to have come from Congress. Being a vocal critic of LBJ and his Defense Secretary and their policies concerning Vietnam, Laird made it a mission to end the draft, disengage from the war, and come to a peace agreement. Laird stepped down in 1973 after four years as Defense Secretary, while there were still about 69,000 troops left in Vietnam.
Laird coined the term "Vietnamization" which referred to Nixon's policy of turning over the combat role to South Vietnamese troops in an effort to allow U.S. forces to pull out. Ultimately, the strategy didn't work and Saigon fell under communist control.
In October 1973, during the Watergate scandal, Laird was Nixon's counselor on domestic affairs. He made the call to request Gerald Ford step in to take over the position of  Nixon's Vice President after Spiro Agnew resigned in scandal. Ford ended up accepting the position, which later made him President when Nixon subsequently resigned in scandal as well. Ford pardoned Nixon before being beat by Jimmy Carter in the 1976 election.
"I thought Ford was the right person to bring the country together after the Watergate fiasco," Laird once said.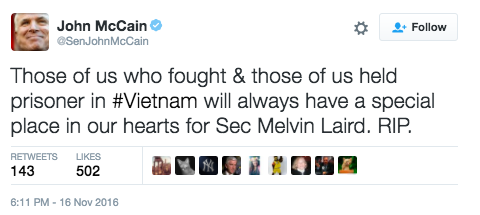 The current Secretary of Defense, Ash Carter, said "Secretary Laird led the Defense Department through a time of great change in the world and within our department. Through it all, he demonstrated an unfailing commitment to protecting our country, strengthening our military, and making a better world."
[revad2]