Iran's Supreme Leader Ali Khamenei has ordered members of the Iranian Revolutionary Guards Corps (IRGC) to infiltrate the United States and Europe. The IRGC is the country's most elite fighting unit and are being sent to operate with the goal of bolstering Iran's hardline regime and thwarting potential plots against the Islamic Republic of Iran.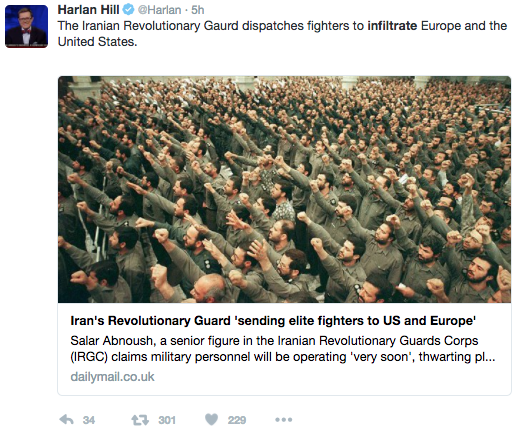 Salar Abnoush, deputy coordinator of Iran's Khatam-al-Anbia Garrison, told media outlets:
"The whole world should know that the IRGC will be in the U.S. and Europe very soon,"
The announcement comes as Iran prepares to use large sums of money that it has received from the U.S. government to improve its military capabilities. Iran has received $1.7 billion in cash from secret side deals that were part of the Iran Nuclear deal and an additional $400 million in exchange for U.S. hostages. Iran plans to spend billions to purchase U.S. airplanes that will be converted and used for the Iranian Air Force.
It is clear that Iran is attempting to improve its military might. Abnoush claims that the IRGC is the backbone of their military and will not let any obstacles stand in their way, not even borders. He said:
"The IRGC is [the] strong guardian of the Islamic Republic, The Fedayeen of Velayat [fighting force] are under the order of Iran's Supreme leader. Defending and protecting the Velayat [the Supreme Leader] has no border and limit."
Several Iranian leaders, including Khamenei and Abnoush, claim that the United states is attempting to cause unrest in Iran. The IRGC are being sent to the U.S. to counter these alleged measures.
[revad2]