On Monday, authorities in Manila detonated an I.E.D. that was found in a trash can near the U.S. Embassy. Officials say that Philippine police believe the placement of the I.E.D. was an "attempted act of terrorism" and possibly done at the hand of Maute militants. Authorities shut down the area to detonate the device safely, leaving no one reported hurt in the incident.
Metropolitan Manila police Chief Oscar Albayalde described the found item as an improvised explosive device. Two explosions were heard as the bomb disposal unit shut down a section of a major highway and detonated the device. During a press conference, national police chief Director-General Ronald dela Rosa said that police believe Maute militants, an ISIS-inspired group, could be to blame. He also stated that they believed it was an "attempted act of terrorism" specifically targeting the U.S. Embassy that was thwarted.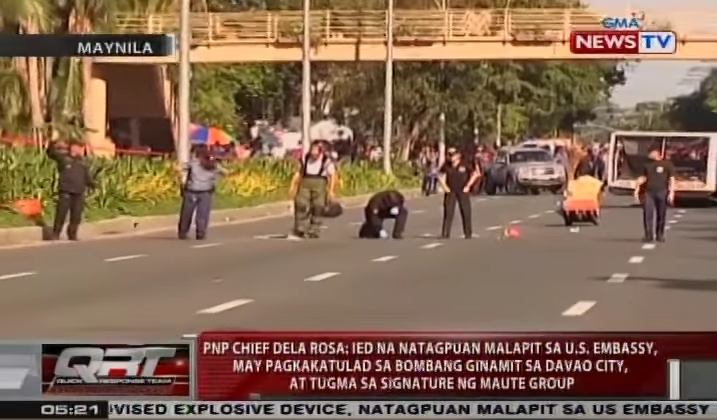 The device was made from an 81-mm mortar round, cellphone, blasting cap and a small battery. If the bomb detonated as they militants had hoped, the impact could have been strong enough to kill anyone within 110 yards. The trash container in which the IED was found was only 22 yards from the U.S. embassy compound.
Police chief dela Rosa said they believed the Maute militants were responsible because of the similarity between the IED found and one used in an attack in Davao. Maute militants are described as a loosely organized ISIS-inspired group comprised of only 200 or so members.
According to CNN, Molly Koscina, the press attaché for the U.S. Embassy in the Philippines, said the IED was first found by a municipal employee.
"(He) reported the discovery of a device to U.S. Embassy guards, who immediately contacted the police," Koscina told CNN. "We are thankful that the municipal employee and the (police) took quick and appropriate action to ensure the safety of all."
[revad2]