A Senior FBI official has warned joint terrorism task forces in Texas, New York, and Virginia of possible Al-Qaeda terror plots planned for the day before Election Day. Investigative producer Pat Milton has confirmed that FBI officials disclosed the information to CBS News. The unnamed source did not specific what cities in each state are believed to be targets.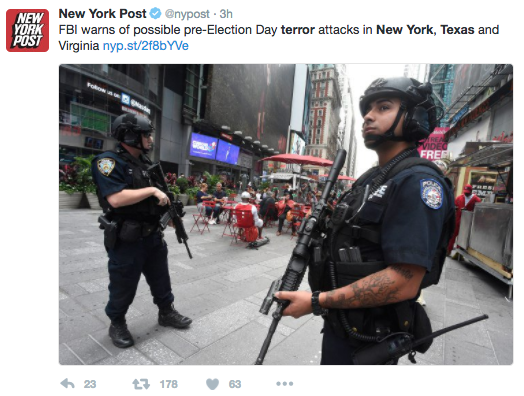 The source advises citizens to be on high alert while simultaneously assuring them that homeland security is doing everthing within its power to prevent any attacks on American soil.
'The FBI, working with our federal, state and local counterparts, shares and assesses intelligence on a daily basis and will continue to work closely with law enforcement and intelligence community partners to identify and disrupt any potential threat to public safety,'
Local authorities in high risk areas have been notified.
American officials have also issued concerns about possible cyber attacks. Several states have turned to the Federal Government for assistance in preventing cyber attacks or voter fraud. Ohio has requested assistance from a cyber protection unit of the National Guard and Arizona Secretary of State Michele Reagan and her cyber security team met with officials from the Federal Bureau of Investigation (FBI) and the DHS.
[revad2]