[UPDATE November 4, 2016 12:40 pm EST] Military officials have confirmed that 3 American trainers were killed during the incident. One died at the scene and two others died while receiving treatment at a nearby hospital.  The U.S. Embassy in Amman sated Jordanian officials are offering their full support and cooperation to American Forces. FP news agency quoted a US defense official as saying it was a "green on blue" incident, which is a military term for when friendly forces attack US personnel. It is unclear at this time whether it was an accident or deliberate.
[UPDATE November 4, 2016 11:45 pm EST] U.S. Defense officials have stated that only one death has been confirmed. The BBC has confirmed that the deceased individual was a U.S. military trainer. The cause of the shootout is currently being investigated. A U.S. diplomat in Amman, that spoke under the condition of anonymity, states that they do not believe the incident was terrorism related at this time.
Two American trainers were killed and a third was injured after being shot by Jordanian security forces. The vehicle that the Americans were traveling in failed to stop at the gate of Prince Faisal air base in al-Jafr. We will update this article when we learn more about those that were killed.

It is being reported that Jordanian security forces issued verbal warnings before firing on the vehicle. A Jordanian military source told reporters:
"There was an exchange of fire at the entrance to the base after an attempt by the trainers' vehicle to enter the gate without heeding orders of the guards to stop,"
A Jordanian officer was also injured during the exchange of fire.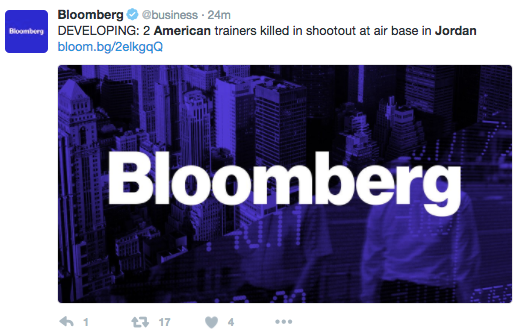 Jordan is a key ally to the U.S. in the battle against ISIS in Iraq and Syria. The Americans that were are reportedly part of the U.S. forces that have been training a small group of vetted Syrian rebels, Iraqi, and Palestinian forces in Jordan.
[revad2]