WikiLeaks says that the founder of the organization, Julian Assange had his internet cut off by the Ecuadorian government at the request of the United States, multiple U.S. sources allegedly told the organization.
Assange has been living and working in the Ecuadorian embassy since June 2012 because he was granted asylum there after a British court ordered him extradited to Sweden for questioning regarding a sex allegation. He believes that if he leaves, he will be extradited to the U.S. and questioned regarding the activities of WikiLeaks.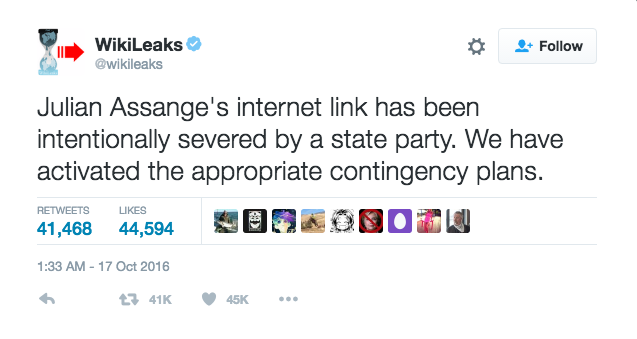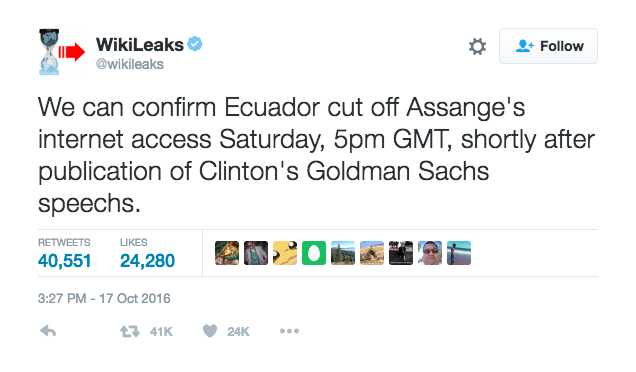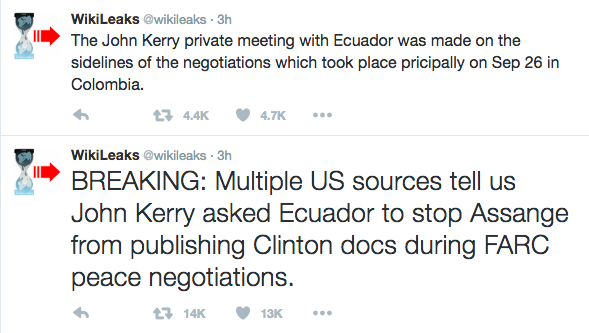 Many people felt that Assange's internet was cut off because of the recent WikiLeaks release of another batch of emails from the campaign manager of Hillary Clinton which showed that during a paid series of speeches to Goldman Sachs, she avoided criticisms of Wall Street.
The Clinton campaign did not deny or admit that the leaked emails were authentic.
The Ecuadoran government offered no immediate comment on the question of internet access, but the country's foreign minister, Guillaume Long, said Assange remained under government protection.
"The circumstances that led to the granting of asylum remain," Long said in a statement on Monday.
So far, WikiLeaks has released 11 tranches of emails from the Democratic National Committee and John Podesta, the chairman of the campaign to elect Hillary Clinton to the presidency.
[revad2]