United States Navy sailors sacrifice months or even years away from family and friends to serve this country and protect our freedoms. Their time aboard a ship at sea can often be lonely and stressful. They eat, sleep, work and train both in extremely close quarters with one another and simultaneously thousands of miles away from everything else. That unique environment can put a toll on just about anyone, and it is important for those men and women to find any time they can to let loose and relax.
One such occasion that sailors always look forward to is "swim call" – an opportunity to jump into the ocean from the deck of the ship and have a little fun in the water.
Check out some sailors enjoying their swim call in the video below:
Swim call is a military tradition in which sailors are allowed the opportunity to swim in the ocean during their downtime. In addition, they also can choose to jump from high up on the deck as a sort of makeshift diving platform.
Coupled with swim call, the afternoon can also include a cookout on the ship and some much-needed relaxation time in the sun. After all, many of the ships in the Navy's fleet are stationed in some of the most beautiful waters in the world, and having the chance to enjoy the scenery is a once in a lifetime opportunity.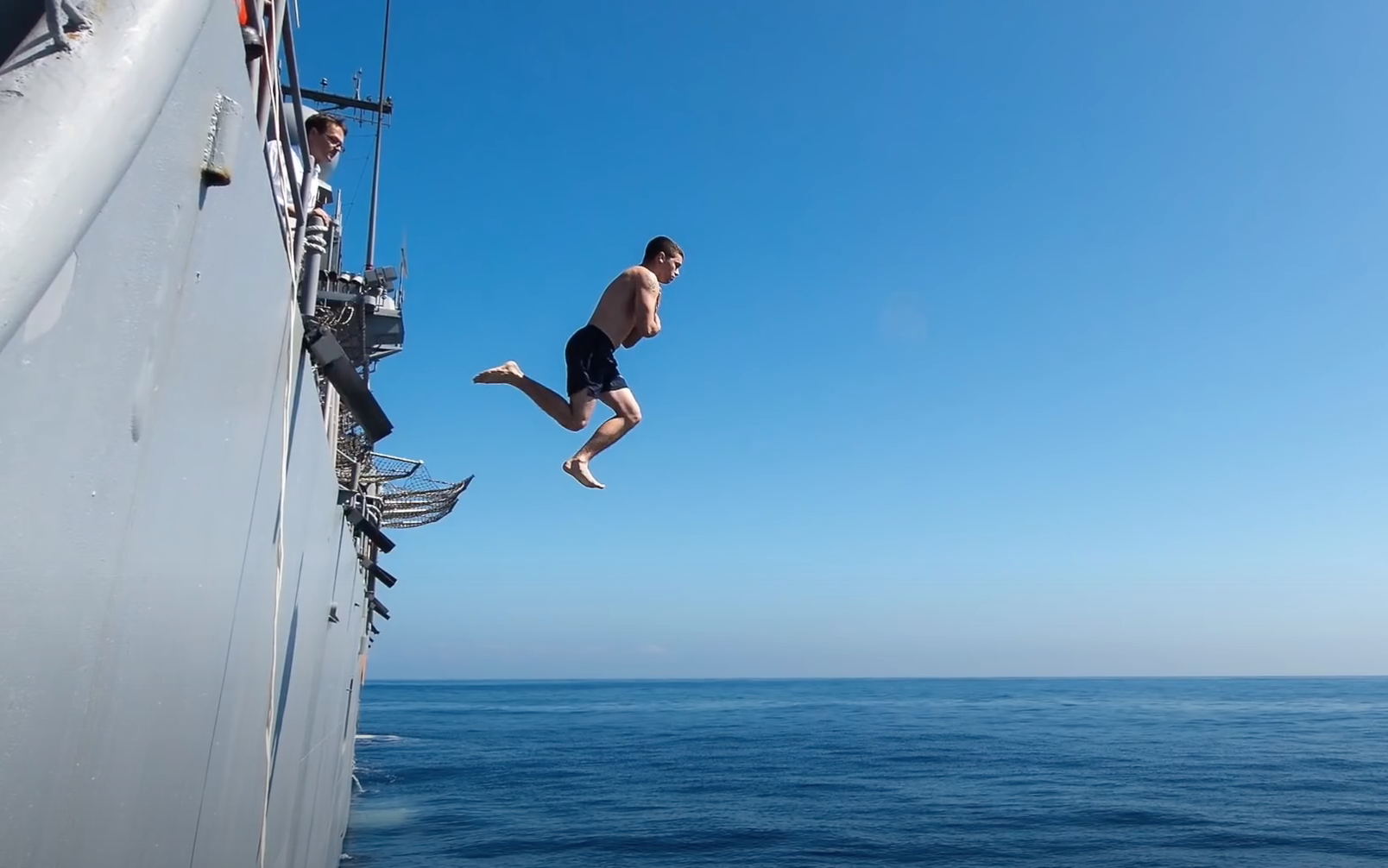 In the video, sailors can be seen leaping from various platforms on the ship. When an officer gives the "step off" command, it's the green light for a sailor to jump, leap or even flip into the ocean waters below.
What's also clear in the video is just how beautiful the water looks. The clear, bright, blue sea that the sailors get to swim in is likely hundreds, if not thousands, of miles from shore. That far away from any human interference means the waters are clean and pollution-free, a far cry from some local beaches.
Of course, swim calls do present some interesting challenges for the ship's crew. Everyone needs to remain accounted for, so patrol boats and observers are on hand to ensure things go smoothly.
Still, an afternoon in the water is the perfect opportunity to bond with fellow sailors, boost morale, and ultimately enjoy a unique opportunity not offered by any other job in the world.