Presidential candidate Donald Trump is receiving an avalanche of criticism after responding to what issues he would address for veterans suffering from post-traumatic stress disorder after returning home from war. The comment is being attacked by many while others are saying it was misspeak and that political forces are making more out of it than they should.The comment has lit up the issue so much it was number 2 trending on all of Twitter in the United States on Monday.
Trump said during a panel interview at the Retired American Warriors PAC event in Virginia, "When you talk about the mental health problems, when people come back from war and combat and they see things that maybe a lot of folks in this room have seen many times over and you're strong and you can handle it but a lot of people can't handle it. They see horror stories, they see events you couldn't see in a movie, nobody would believe it."
The man who asked Trump the question on mental health care for veterans, Marine Staff Sgt. Chad Robichaux, is a veteran who did eight combat tours in Afghanistan and was diagnosed with PTSD. Robichaux said that he thinks that Trump's words were twisted and that Trump recognizes a broken system and wants to address it.
"I think it's sickening that anyone would twist Mr. Trump's comments to me in order to pursue a political agenda," Marine Staff Sgt. Chad Robichaux said in a statement. "I took his comments to be thoughtful and understanding of the struggles many veterans have, and I believe he is committed to helping them."
Trump adviser and retired Lt. Gen. Michael Flynn quickly put out a statement. "Mr. Trump was highlighting the challenges veterans face when returning home after serving their country. He has always respected the service and sacrifice of our military men and women—proposing reforms to Veteran Affairs to adequately address the various issues veterans face when they return home,"
Trump has been vocal about fixing the VA and ensuring proper healthcare for veterans but in a campaign full of off the cuff remarks some don't know if he just misspoke or genuinely thinks veterans with PTSD are "weak" while other service members who don't get PTSD are "strong."
Trump added that mental health care is a major issue that needs to be addressed for veterans.
"We are losing so many great people that can be taken care of if they have proper care," Trump said.
Many people quickly criticized Trump, saying that getting PTSD is not the same thing as not being strong.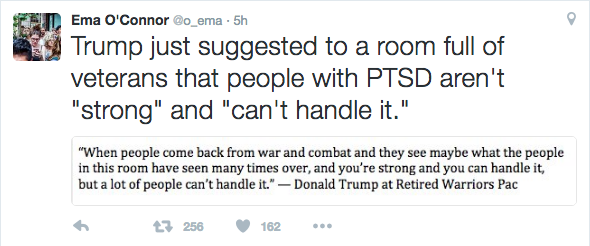 Trump's campaign said that his words were taken out of context and that he understands the importance of mental health care for veterans.
"The media continues to operate as the propaganda arm of Hillary Clinton as they took Mr. Trump's words out of context in order to deceive voters and veterans — an appalling act that shows they are willing to go to any length to carry water for their candidate of choice," Lt. Gen. Michael Flynn added.
[revad2]