Thacker Jewelry in Lubbock, Texas is taking the phrase "shotgun wedding" quite literally. The have teamed up with a local firearms dealer, LSG Tactical Arms, and will be giving away a gift certificate for a free shotgun or rifle to anyone that buys an engagement ring.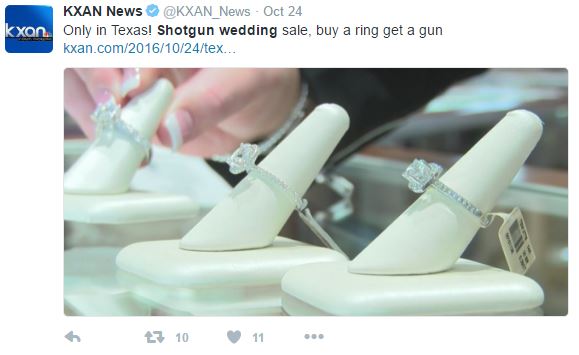 Jewelry store owner Joe Thacker told local CNN affiliate KLBK news:
"We started this tradition I believe it was, it'll be three years now, the idea, of course, is the wordplay and the old shotgun wedding. Not going back to the negative connotation, playing off of that and it's been a lot of fun. We had a lot of people participate and this year we've even gotten into it more."
While many people across the country seem baffled at the odd pairing it seems like common sense to LSG Tactical Arms manager Steve Burns. For Burns fire arms and Texans go together like peas and carrots. He told reporters:
"It's something that's very natural for most Texans, Most guys grew up hunting or at least exposed to hunting if not by their family, but by their friends, or social groups. So it's something that's pretty natural for all of us."
The sale will run from October 27 through October 29.
[revad2]