On Friday, the Pentagon watchdog group for Afghanistan reconstruction released information revealing that a possible $300 million dollars of taxpayer money is being dolled out to pay Afghan soldiers and police who may not actually be serving. A letter asking questions regarding "ghost" soldiers that was sent in August from the inspector general for Afghanistan reconstruction, John Sopko, to Secretary of Defense Ash Carter was made public just before the weekend. The letter asks Carter for information "regarding your department's efforts to ensure accuracy across the Afghan National Defense and Security Forces (ANDSF) personnel accountability systems."
"My office has raised concerns in the past that the U.S. government has been relying on inaccurate data when determining how much it will spend on ANDSF salaries," Sopko said. "In January 2015 we reported that more than $300 million in annual, U.S.-funded salary payments to the Afghan National Police were based on only partially verified or reconciled data, and that there was no assurance that personnel and payroll data were accurate."
Sopko also added that his office "found similar deficiencies during the course of our April 2015 audit of Afghan National Army personnel and payroll data."
In the letter, Sopko goes on to point out specific discrepancies between the assigned force strength and the actual number of personnel serving.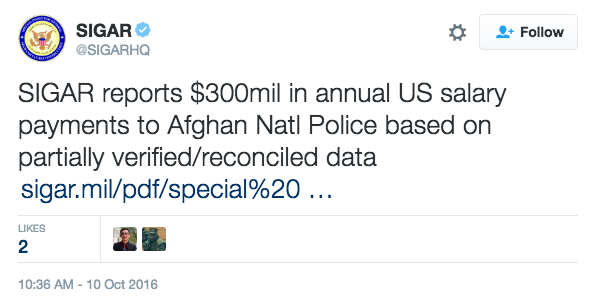 '
"As stated in our July 2016 quarterly report, U.S. Forces Afghanistan reported that in the quarter ending June 2016 'ANDSF assigned force strength was 319,595 (not including civilians)' However, the Associated Press previously reported an Afghan official as indicating that 'the best internal estimate put the number around 120,000, less than a third of what is needed to secure the country.'"
Sopko also stated that Afghan government officials have also raised concerns about "ghost" ANDSF personnel in the Helmand province reporting that "40 to 50 percent of the force did not exist physically when he asked for help during operations."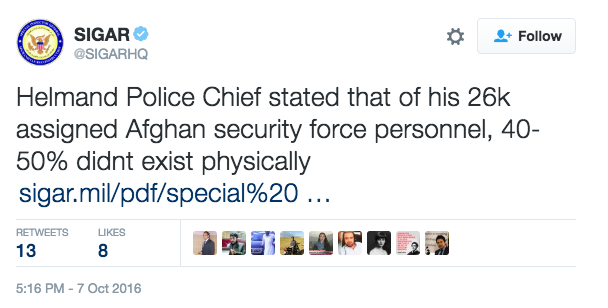 Sopko requested a list of information from Secretary Carter and the Department of Defense that would help combat the problem of ghost soldiers. Among the information requested was a "detailed update on all DOD efforts to strengthen the use of electronic tracking and biometric systems."
On October 3rd, the DoD responded by outlining five efforts they ensure are being implemented to fight the problem of "ghost" soldiers. The efforts included data cleaning, personnel asset inventory, biometric enrollment, Afghan pay and personnel system, and commitment letters.
[revad2]