The Islamic State has claimed responsibility for the death of a United States soldier that died in Afghanistan Tuesday, but the U.S. government refuses to say the serviceman died "in combat." The U.S. special operations service member was killed by an IED explosion while on foot patrol during a counterterrorism mission. During a press briefing Tuesday, Pentagon spokesman Peter Cook refused to say specifically that the solider died "in combat."
The service member, who has yet to be publicly identified, was reportedly on combat patrol in a combat zone and receiving combat pay at the time of his death. Despite dying as a result of enemy aggression in a combat zone, Cook would only say that he died in a "combat situation." The choice of words is likely a result of the Obama Administration's persistence to claim the war in Afghanistan ended in 2014, though he has continued to leave thousands of troops in the country.
One reporter asked, "Can you say that this individual was in combat in Afghanistan?"
Cook skirted answering the question directly. "We've talked about this before. We are targeting ISIL in Afghanistan. We have soldiers in harms way. This clearly was a tragic situation. It highlights the risk our service members are taking every single day," he replied.
"So you can't say that he was killed in combat?" the reporter asked again.
"This was a combat situation," Cook said. "Clearly, this was a service member who faced risk alongside Afghan partners. And again, we offer our condolences to the family. This is a very difficult situation."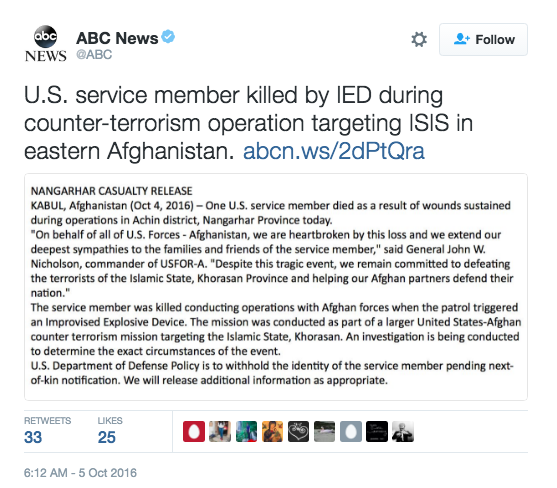 General John W. Nicholson Jr., the senior U.S. commander in the country, said that the soldier died while serving in a "larger United States-Afghan counterterrorism mission targeting the Islamic State, Khorasan."
"On behalf of all of U.S. Forces – Afghanistan, we are heartbroken by this loss and we extend our deepest sympathies to the families and friends of the service member," Nicholson continued.
Tuesday's death marks the third U.S. service member to be killed in combat in Afghanistan in 2016. Another five troops were reportedly wounded in July while fighting against ISIS.
[revad2]