The United Sates Military is threatening to retaliate against the Iranian-backed rebels that fired missiles at the USS Mason off the coast of Yemen. The Arleigh Burke-class destroyer was reportedly targeted by missiles on Sunday but was able to successfully prevent any causalities, injuries, or damage to the ship by firing counter missiles.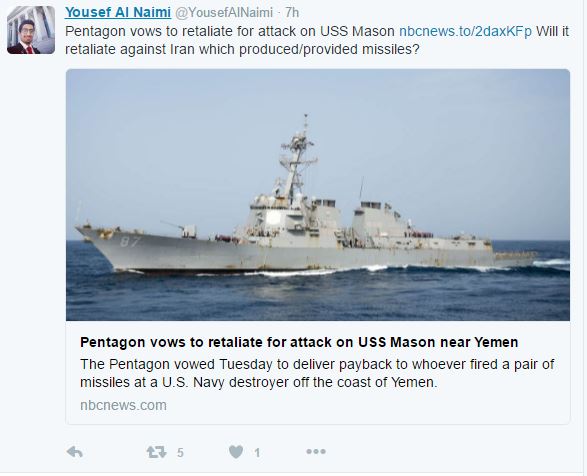 The destroyer was reportedly forced to fire two SM-2 missiles and an Enhanced Sea Sparrow Missile (ESSM) to intercept the incoming cruise missiles. The ship was conducting routine operations at the time when Houthi Rebels, which receive weapons and support from Iran, launched the attack.
Pentagon officials have vowed to retaliate for the attack but were careful not to point any fingers at their potential targets. Military intelligence specialists are currently tracking the individuals that were responsible so that they may launch a successful and efficient counter attack. When questioned about where the retaliatory strike would occur Navy Capt. Jeff Davis responded by saying:
"That is a target we would develop, as we do with any other things that we strike. Anytime we engage in strikes, we do so only after a thorough analysis of what it is we're striking."
The U.S. military seems poised to launch a counter attack directed at Houthi rebels but were careful to skirt the issue. Davis told Reuters:
"The Houthis have said publicly before that they would target any ships in that area that were supporting the coalition against them, So the facts certainly seem to point to it, but we are still assessing and we will have more for you."
The Houthis have not claimed responsibility for the attack.
[revad2]