With election day almost a month away, findings of voter fraud have  already been reported around the nation. Indiana, Nevada, and Colorado were all subject to investigations which revealed voter fraud was rampant through several counties.
CBS4 launched an investigation in Colorado last month after there was suspicion that individuals may have been committing fraud. The news company uncovered that there were multiple cases where dead voters were casting ballots long after they had died. One case in particular involved a deceased woman named Sara Sosa from Colorado Springs who, despite passing away in 2009, was recorded as casting a ballot in 2010, 2011, 2012, and 2013. Her husband Miguel, who died a year before she did, was also shown to have voted in the years following his death.
"We do believe there were several instances of potential vote fraud that occurred," Colorado Secretary of State Wayne Williams told CBS4. "It shows there is the potential for fraud."
On Tuesday, investigators from the Indiana State Police Department raided a voter registration agency on Indianapolis' north side as part of an investigation into fraud that was launched back in August. The agency, Indiana Voter Registration Project, sent thousands of voter registration forms to county registration offices, some of which were found to be fraudulent.
Dave Bursten, an Indiana State Police Spokesman in Indiana said that they have confirmed at least 10 voter registration forms contained manipulated and false information. He also stated that a team of six detectives are working on determining if there are more fraudulent forms and that they have already briefed the FBI.
IndyStar reporters attempted to reach out the the organization but could not get in contact with them. Later that day, a spokeswoman for the organization, Christy Setzer, who has worked as a Democratic strategist for Howard Dean, Al Gore, and Chris Dodd, released a statement:
"We sincerely hope that no one in a partisan elected position is using their office in an effort to make it harder for the people of Indiana to vote. The Indiana Voter Registration Project is a nonpartisan effort to ensure that all Indianans who are eligible to vote can do so. As part of its quality-assurance program, the Indiana Voter Registration Project has reviewed tens of thousands of applications and identified a small handful that may have had incomplete or inaccurate information and, in those instances, we immediately informed the Registrar and asked them to double check those forms for accuracy."
In Nevada, an investigation found that individuals had committed voter fraud by altering voter registration information which rigged the outcome of  the democratic caucus in February to ensure a win for Hillary Clinton. Allegations were first made by former candidate for congress, Dan Rolle, who claimed higher ups in the DNC had been rigging elections and committing voter fraud in Nevada since 2012. Rolle announced just last month that there was "irrefutable evidence that the Democratic Party colluded with Hillary Clinton" and he's sorry he didn't know sooner.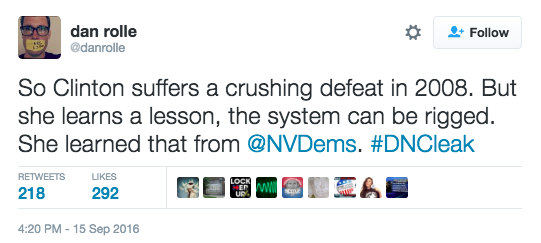 "I thought that being a young naive 34-year-old man that I could get involved in politics and make a change on the ground," Rolle said in a Periscope video shared on Twitter. "The truth is, what I found out is that it is far more corrupt, far more disturbing, and far more disenfranchising than I ever could have imagined."
[revad2]